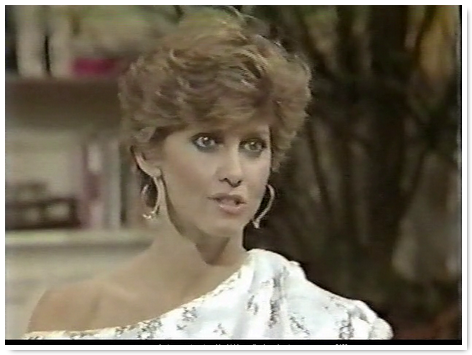 Merv's first words are to compliment Olivia on her "early Roman" dress calling it a "definite mini." Olivia points out that she is wearing shorts underneath so she's "decent". He also comments on her 10s: "tenth year in showbusiness," "tenth album" and even calling Olivia herself "a 10". As Olivia points out it's actually her sixteenth year in showbusiness but ten years of hits.
Merv impresses Olivia with his choice of favourite song of hers – "Don't Cry for Me Argentina" Olivia recorded this in 1976 (for her Making A Good Thing Better 1977 album) before Evita even came to America. When she first heard the song she decided she really wanted to record it. Her producer John Farrar was in Australia at the time and he flew especially to Vancouver. They recorded it there in one day with a hundred-piece orchestra. Unfortunately, Olivia couldn't release her version as a single because she was on the same record label as the original Evita version.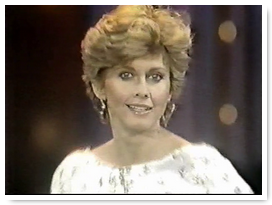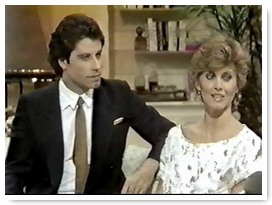 They show footage of Olivia receiving her Star on the Hollywood Walk of Fame and her slightly cheeky speech thanking the Chamber of Commerce for "agreeing on something" which raises a laugh from the audience.
John Travolta joins Olivia later in the show. They discuss whether fame has changed either of them. Olivia reckons that it changes your life but it doesn't change you inside. John Travolta disagrees and says, "It changed me. I'm happier." This gets a big laugh from everyone. John is very relaxed during this show, he was noted for his shyness at the time. He even says, "with this group I feel outgoing."
An appearance by the Carpenters also adds to the evening especially now Karen is no longer with us. Olivia, Karen and Richard first met in London at Annabel's in the early 70s. Karen and Olivia talk about a recent boating trip they took together with their partners. Olivia suffered from seasickness, the boat broke and they had to spend the night in a cockroach-filled hotel. Despite this they seemed to have had a great time!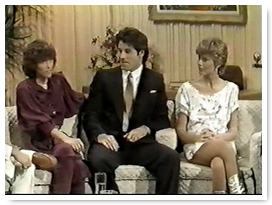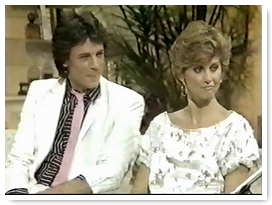 Olivia performs The Promise, Make A Move On Me and they show the Physical video. Olivia mentions the two songs that mean something personal to her on the new Physical album: Silvery Rain and of course The Promise.
Other guests were fellow Australian Rick Springfield and dolphin expert Toni Lilly. At the end there's a cake in the shape of "10" for 10 years of hits or in fact Olivia being a 10.