04-02-2016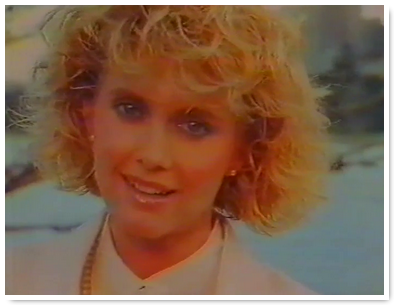 This show was aired the day the Summer Olympics in Los Angeles opened. Several artists performed : Placido Domingo, the Beach Boys, Neil Diamond and, of course, Olivia Newton-John. In a segment taped in Sydney, she was joined by Australian actor Paul Hogan to wish the athetes luck (especially the aussies !).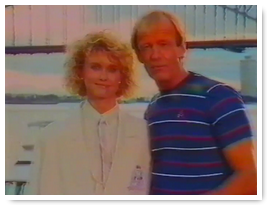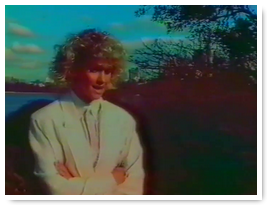 Olivia then performed a medley of I Still Call Australia Home and Waltzing Matilda backed by two children's choirs and the Military District Band. It actually looks more like a music video, with a long musical bridge where footage of Australian athletes is shown, as well as beautiful Australian scenery. It ends with nice long shots while Olivia hold that note.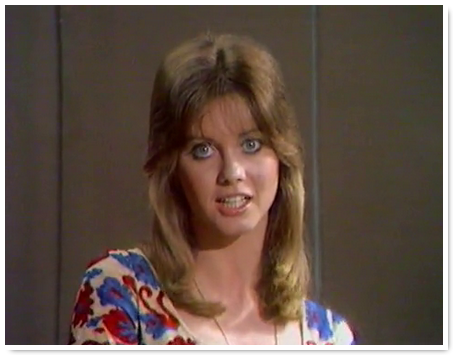 Olivia's first appearance on French television happened in May 1971 when she was promoting her first proper single, If not for you. This song is a George Harrison cover, which itself is a Bob Dylan cover ( in other words : she covered Harrison's version of Dylan's song. No, that's not confusing :D )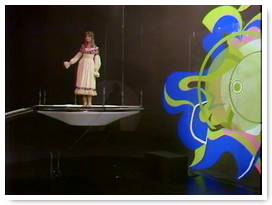 Le Grand Amphi was a monthly variety show hosted by Jacques Chancel on what was then the second color tv station in France. Notice how he refers to her as "Olivia Newton" once she's done with her performance.
She seems to be pretty at ease doing her routine, standing on a suspended platform that doesn't look the safest to me.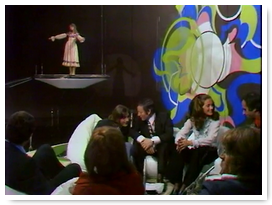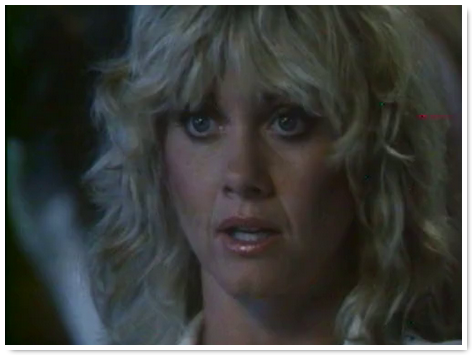 Now this is a real gem : a 23 minutes intimate interview with a very relaxed Olivia, filmed at her Malibu ranch to promote Xanadu. This program, produced in June of 1980 and aired in France in November, was shown internationally under the title "A Superstar Profile".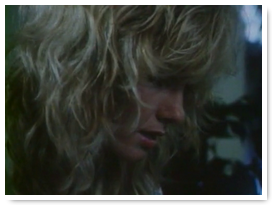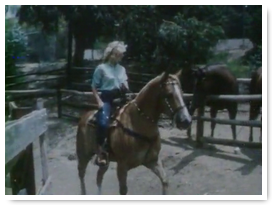 You'll see Olivia riding her horses, playing with her dogs, driving her car, playing an unidentified song on the piano with her Irish setter Jackson sitting around...
She mentions fame, Toomorrow, her parents speaking in German so she wouldn't understand when they'd have an argument...
I've seen A LOT of Olivia Newton-John interview, yet very few come close to this one when it comes to intimacy and Olivia being that much open.
Various songs are played throughout the program : Magic, Suddenly, I honestly love you, Loving you ain't easy, as well as video clips from Grease and Xanadu.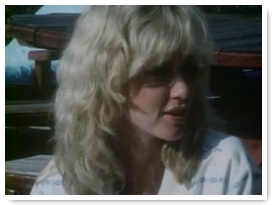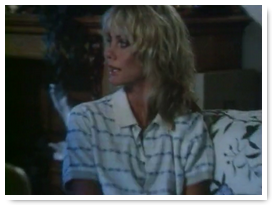 05-02-2016
Oddly enough, I was originally saving this for tomorrow, but then I found out about the passing of Maurice White, leader of legendary 70s group Earth Wind & Fire and as they were part of this show, I thought I'd share it right away.
RIP Mr. White.
1979 was the International Year of the Child and, in that context, several artists from the late 70s gathered for a unique concert where they'd give away the rights to a song to benefit UNICEF. Hosted by David Frost, Henry Winkler, Gilda Radner and Henry Fonda, the show's lineup was all late 70s A-list : the Bee Gees, Andy Gibb, Donna Summer, Earth Wind & Fire, Kris Kristofferson, Rita Coolidge, John Denver, Rod Stewart, ABBA and Olivia Newton-John.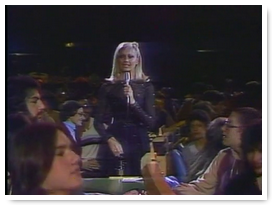 Held at the United Nations General Assembly Hall on January 9th 1979, the show was broadcasted the next day on NBC and later in about 70 countries (the version I've loaded being the French broadcast from March 26th, 1979 - with a slightly different edit and French subtitles - digital quality). A live album was also released, including some different versions of some of the songs (for instance, Olivia's The Key is not taken straight from the televised version)
Credits :
Executive Producers : Robert Stigwood, David Frost
Produced by Marty Pasetta and Ken Ehrlich
Directed by Marty Pasetta

Opening Medley (including Let me be there + Olivia singing on ABBA's He is your Brother)
Kris Kristofferson & Rita Coolidge : Fallen Angels
Olivia Newton-John : The Key
Andy Gibb : I go for you
Earth Wind & Fire : September/That's the Way of the World (introduced by Olivia Newton-John)
Rod Stewart : Da ya think I'm sexy ?
Donna Summer : Mimi's Song
Olivia Newton-John & Andy Gibb : Rest your Love on Me
ABBA : Chiquitita
John Denver : Rhymes & Reasons
Bee Gees : Too much Heaven
All artists : Put a little Love in your Heart (Olivia duets with Barry Gibb on the second verse)
In early 1979, Olivia was awarded the Order of the British Empire in London. In this news report, she explains how nervous she was because of all the protocole, and explains what she can wear the award with - as it is kind of a medal.
The file I have is rather low quality, so I'll try to find an upgade soon.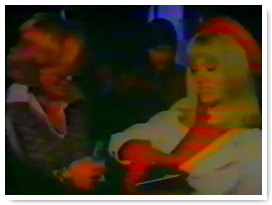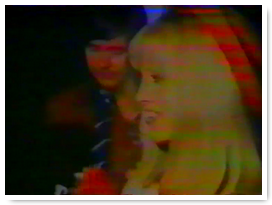 Souvenirs Souvenirs was the French version of US TV series Portrait of a Legend which was produced and aired in the US in the early 80s, the interview bits used in this version are basically the same as on the original one.
There are some differences though : the French host was singer Johnny Hallyday, while the original program was hosted by James Darin. But most interestingly, some of the music clips are somewhat different : the French version includes an almost full version of Maybe then I'll think of you performed at the 1973 Tokyo Music Festival (only the intro is missing), they used the Australian Royal Variety Concert for Hopelessly devoted to you instead of the one from Hollywood Nights, and the Have you never been mellow clip is a bit of a mystery to me, as I've never seen it anywhere else.
Otherwise, it's basically the same program : a look back at Olivia's career up to that point (this was aired in the US in August of 1981, so Physical was not yet out even though she already wears the then new hairstyle) where she reflects on her winning a talent contest at the age of 14, creating the Sol Four group, John Farrar's songwriting and her expectations for the future.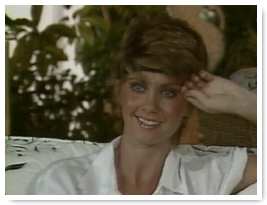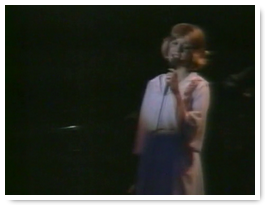 This version is subtitled in French, I'll upload the original US version eventually.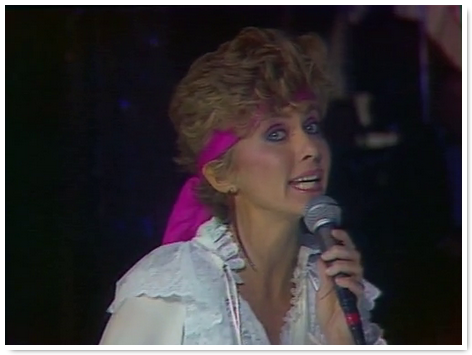 Olivia was in France for her birthday in 1981 as she was promoting Physical around Europe. The show was simply called Stars and was hosted by Michel Drucker, who Olivia already met three years earlier in Les Rendez-Vous du Dimanche.
Olivia was the penultimate performer on the show, followed by french singer Johnny Hallyday who performed three songs.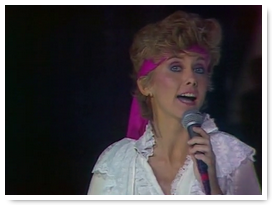 Olivia sings Physical live with the typical aerobics choreography (losing an earring in the process) and gives a short interview, in which Michel Drucker basically asks the same questions he did in 1978. At the end of the show, Olivia, Johnny Hallyday and Michel Drucker are joined by all the other guests (including Sheena Easton) to present Olivia with a birthday cake before she gives Johnny Hallyday a gold record for the album he just released.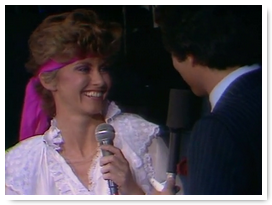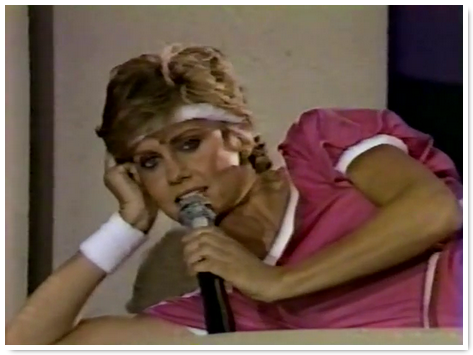 In September of 1981, Olivia launched her new single Physical in the TV series Solid Gold, which was similar to American Bandstand, only to include a group of dancers who'd perform choreographies to the current top ten hits. A year before that, Olivia duetted with Andy Gibb on two of his singles : I can't help it and Rest your love on me. As he was hosting the show at the time, Olivia performed a live version of the latter, similar to the single version (as opposed to the one they performed at the 1979 UNICEF Concert where Olivia started the song instead of Andy).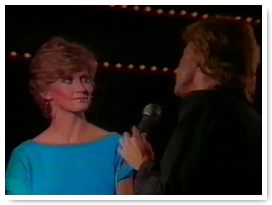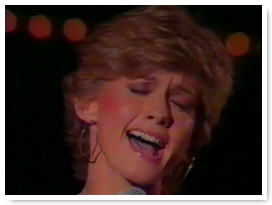 She also performed Physical for the very first time, joined by Solid Gold dancers, especially Tony Fields and Alex Cole. This performance set the whole aerobics tone designed to tame the lyrics' sexual innuendos down. Although lipsynched, the performance is very energetic and differs a lot from anything Olivia had done before on television (or musically, for that matter).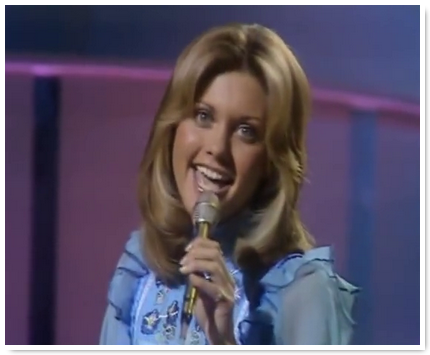 In 1974, Olivia represented the United Kingdom at the Eurovision Song Contest. This takes place annually, held in the country that won the contest the previous year. Olivia performed a song that had been chosen by the British TV viewers, Long Live Love. She later admitted to loathing that "oompah-oompah" song, wishing she could sing a lovely ballad called Angel Eyes. Of course, Olivia - and everybody else in the contest - lost to ABBA's Waterloo.
This is the best quality I could find for the actual performance. There is another file that includes a small snippet about Olivia right before the song which I'll upload later.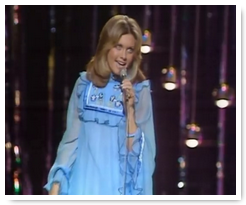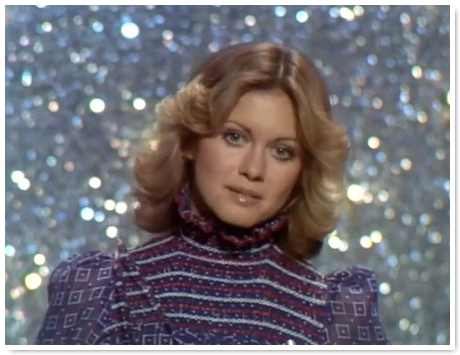 Thanks to the American Music Awards Youtube Channel and the Awards Show Network, we can get some bery good quality videos of Olivia's acceptance speeches at the 1975 American Music Awards where she won four times.
Favorite Country Album (Let me be there)
Favorite Country Female Artist
Favorite Pop/Rock Single (I honestly love you)
Favorite Pop/Rock Female Artist