06-02-2016
This interview was conducted just after Olivia's concert date at the Sydney Entertainment Centre. The interview is interspersed with clips from Olivia's career and it's nice that it also focuses on Olivia's rarer albums including Soul Kiss and The Rumour.
Olivia wore a black leather jacket & a black top! The interview started with Olivia saying she had just done the Brisbane, Newcastle & Sydney shows. Last night [Sydney] was unbelievable...the audience was so warm & generous, it was lovely, very special! Olivia mentioned she read the review in the Australian [newspaper] it wasn't good for me, she said laughing...he tore me apart! Olivia said it didn't bother her, because she goes by the audience reaction & the audience reaction has been AMAZING! They flashed 3 of Chris's Sydney Concert photos from the website up on the screen.
They talked briefly about, Grease, Totally Hot, Xanadu, Physical, Two Of a Kind, Twist of Fate, Soul Kiss, they played parts of all the clips they talked about... Olivia had the cover of the Soul Kiss album, the one where she is bare backed, she said she was uncomfortable posing for that back then, but looking at it now, it's a really nice picture & she appreciates it now!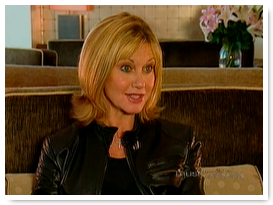 They mentioned The Rumour (recording the title tack with Elton John), Warm & Tender and Gaia, They played some of the clip of No Matter What You Do. They spoke about Sordid Lives. Olivia said she had so much fun bleaching & cutting off her hair, wearing the fake Tattoo's & earrings etc... She said in-between filming, walking around the neighbourhood, she learnt an interesting lesson in life! People judge you by how you look...the looks she got, people pulled their children away, it was very funny, she said!
They then talked about "2" Olivia said she was delighted with the response of the album, it had gone platinum before the interview & was on it's way to going second Platinum, it went in at #5 on the Australian charts Olivia said she was very happy with that! Lastly they talked about the Grease 3 & whether or not it was just a rumour. Olivia said they are seriously pursuing the idea, but that whether it happens or not she doesn't know! She said it has a good shot at happening. They finished with the film clip of You're The One That I Want!
Summary by Robyn Waugh taken from Only Olivia.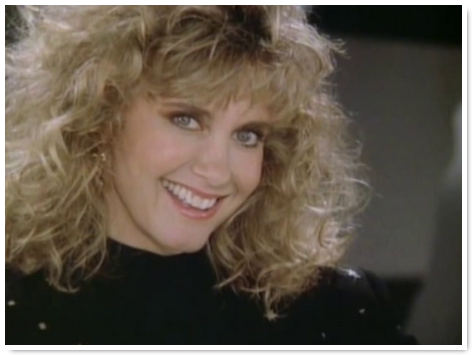 The Rumour video was directed in 1988 by Brian Grant and closed Olivia's HBO Down Under special. The song, witten by Bernie Taupin and Elton John, was very energetic and there's a lot of choreography involved in this piece, all under the direction of Kenny Ortega.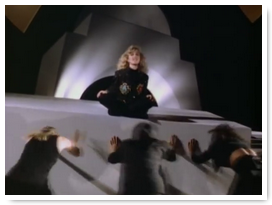 You're probably thinking "TV version ??" Well, if you look carefully, the TV version (available on Olivia's officiel YouTube channel) includes the close-ups of Olivia that are featured neither on Down Under, nor on the Gold DVD. They appear at 1:03 and 3:34 (and I made screencaps so can spot them easily). You can go and check your VHS/DVD, they're not there ! ;)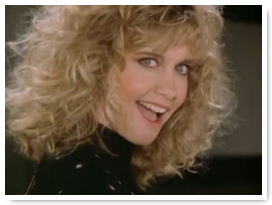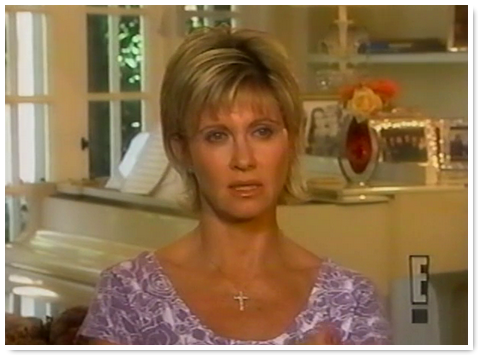 This in-depth interview with Olivia aired just before Olivia's spectacular performance at the Olympics 2000 opening ceremonies. It also featured interviews with Nancy and Jim Chuda, sister Rona, David Foster, Randal Kleiser, Didi Conn and John and Pat Farrar.
The program gave the lowdown on Olivia's career but also concentrated on her personal life including her battle with breast cancer. One of the most moving moments was Olivia, Nancy and Jim speaking about Colette Chuda's last trip to Disneyworld in Florida. Colette was in a wheelchair by this time and displayed such bravery, Olivia would swim with her and sing to her when she was in pain. Olivia is very tearful when she speaks about her death one of the worst tragedies - against the natural order of things for a child to die before its parents.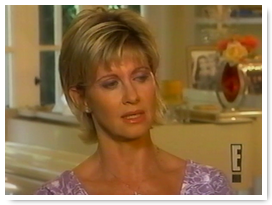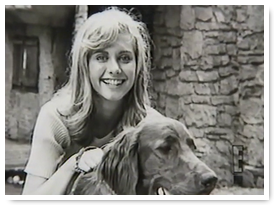 On a more lighter note Olivia and Pat giggled about the early days in London when they got their microphone leads tangled up on stage. They had only practiced their dance routines with coke bottles so the leads came as a surprise! Olivia remembers her first night in America at the Hotel Sunset Marquee, LA and hearing gun shots on the street below - luckily this didn't frighten her off America and she went onto career heights.
Behind the scene footage on the set of Xanadu was a welcome addition - Olivia clowning around with co-star Michael Beck. Olivia attributes the box office failure of both Xanadu and her later movie with John Travolta Two Of A Kind due to their script problems. But Grease more than made up for this!
Olivia's friends: Nancy Chuda, Didi Conn and David Foster are amazed and delighted at just how down to earth, natural and "so not like a celebrity" Olivia really is. David Foster describes the syndrome "one hit record six bodyguards" but with Olivia six hit records no bodyguards!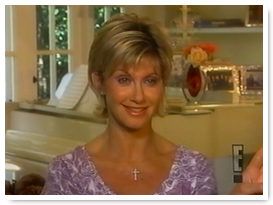 summary taken from Only Olivia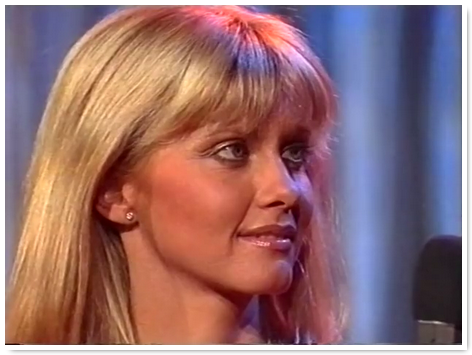 Olivia also stopped in Germany during her European Totally Hot tour, and performed Totally Hot in a show called Rock & Pop.
There's a short interview where she explains how thrilled she is to be part of the world's top ten favorite singers (according to a magazine poll) and how she does not think her success is a result of the "disco boom" as Grease really isn't disco !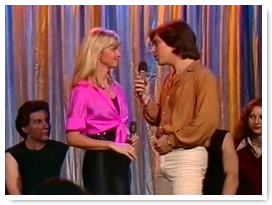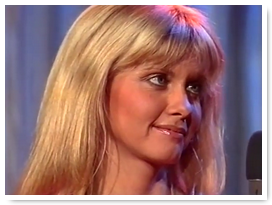 The performance is abslolutely perfect, from Olivia's outfit (also worn on the single's European cover) to her vocals. What strikes me the most in this appearance is the contrast between her sweetness during the interview and her "agressive" attitude during the performance. Stunning.
Olivia was guest of one of France's most watched newscast, then hosted by William Leymergie. She arrived in Paris during the night and does look a bit tired in this interview. It's not the most interesting one anyway, as the questions are basically the same ones she had to answer over the years (she was away from the spotlight because she focused on being a mother, she'd love to work with John Travolta again...). The only thing we learn here is that she ran into Elton John at a party and "begged" him to write her a song. Some clips of the Rumour video are shown as well.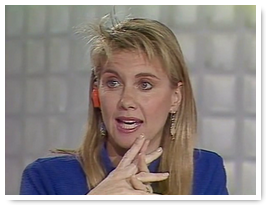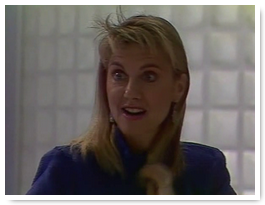 Olivia's first US televsion special aired on ABC in Nov. 1976. She used it as vehicle to promote her Don't Stop Believin' LP, as well as some of her hits.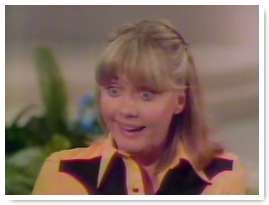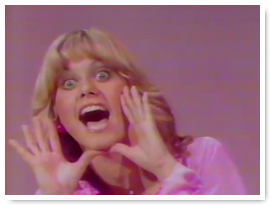 The plot is very clever : Olivia is trying to get guest stars for her special, but things don't seem to work out her way : Ron Howard and Tom Bosley want to sing, Lee Majors ends up wanting to have his own special, Wonder Woman (Lynda Carter) is too busy fighting crime and corruption, not to mention gossip columnist Rona Barrett criticizing everything about Olivia's show. Only Elliott Gould goes out of his way to be part of the special, only to end up being very business-ish when it comes to contracts.
Of course, what makes it all clever is that all these celebrities appear on the show.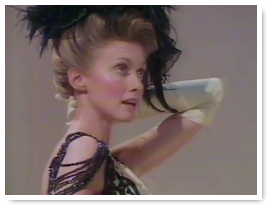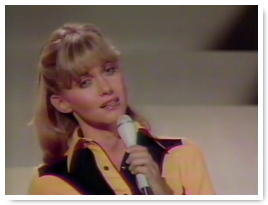 We owe this great quliaty file to YouTube user rkrause957 : if it weren't for him, we would only have a copy of a copy of a copy... I have one somewhere where it's basically all white and yellow, Olivia's eyes being the only thing that pop. So if you guys want to send thank you messages to someone for this, go visit rkrause957's YT channel and use the comments feature to thank him ! :)
Songs :
Love Song
Don't Stop Believin'
Stepping Out With My Baby (Elliott Gould)
Pony Ride
All I Need Is The Girl (Elliott Gould)
I've Got Them Feeling' Too Good Today Blues
Anything Goes Generation Medley : Every Little Movement / Running Wild / 42nd Street / Shoo Shoo Baby / Sh-Boom (Life Could Be a Dream) / Lucy In The Sky With Diamonds / Love Is Alive
As Time Goes By
A Cup Of Coffee, A Sandwich And You / They All Laughed (Elliott Gould)
Sam
Please Mr. Please / Have You Never Been Mellow / Let Me Be There / Let It Shine
I Honestly Love You
Olivia took part in Australian singer Billy Thorpe's memorial in 2007, as he passed away that same year. They collaborated on numérous occasions, including a duet on Olivia's album (2) and he co-wrote the song Emotional Tangle for her 1985 Soul Kiss album.
Olivia performed Over the Rainbow as a tribute to him.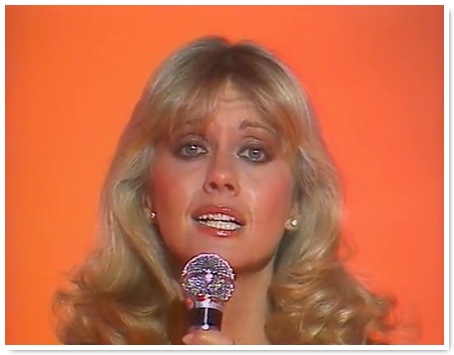 This is Olivia's second appearance on this show, and this Hopelessly devoted to you performance is the last to be aired of those she taped in late November that year. She's wearing the same red outfit as on her previous appearance.
French comedian Raymond Devos was the main guest on this episode, and we can see him watching Olivia's pre-recorded performance as the song goes on, which can be a bit distracting.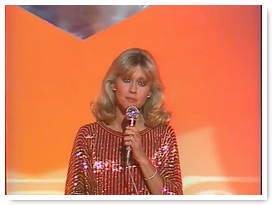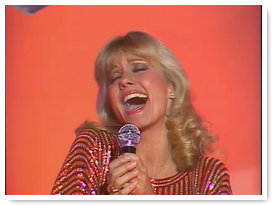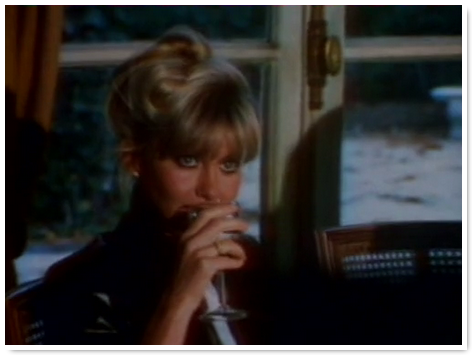 This was taped during Olivia's visit in France in November of 1978, but aired in early 1979. It's basically footage of Olivia enjoying herself in Paris, visiting chef Gaston Lenôtre's kitchen and walking around the Notre-Dame cathedral in Paris alns with French TV producer Marie-France Brière. The interview is heard over the footage, with Totally Hot tracks Please don't keep me waiting and Dancin' 'round and 'round playing as background music.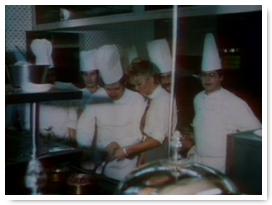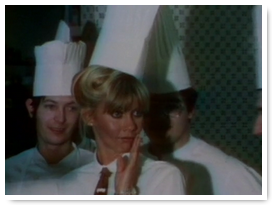 As the interview is rather short, we don't get to learn much, except that Olivia used to skip school to go to the movies and watch Blazing Sun (Plein Soleil) starring Alain Delon. She then talks about her beginning as a singer in her brother-in-law's coffee lounge.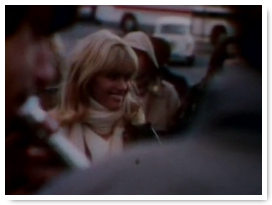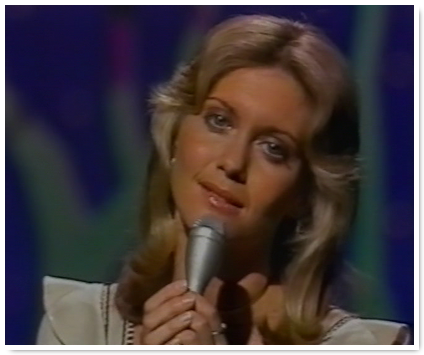 Olivia's first appearance on the Tonight Show, then hosted by US TV legend Johnny Carson.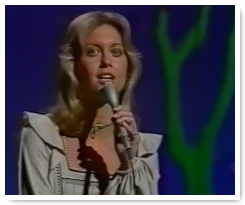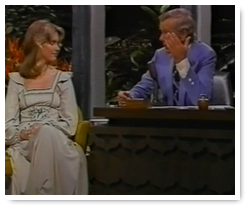 She gave a short interview where she discusses Australian slang with Carson and giving him examples, and performed two songs : If you love me (let me know) and I honestly love you, during which she gets a bit emotional, shedding a tear near the end of the song and her voice breaking down a bit.