06-02-2016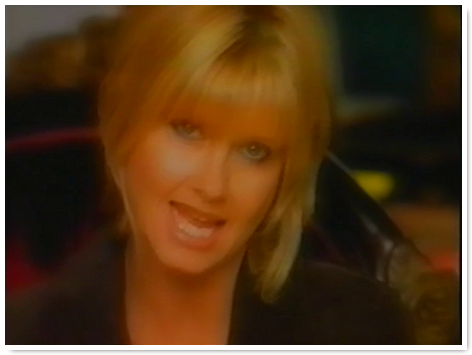 This is a duet with the Raybon Bros found on the 1997 album Raybon Bros.
This was Olivia's introduction back into the country music scene in preparation for her own country music album Back With A Heart the next year. It wasn't released as a commercial single but the video got airplay on CMT.

Olivia and the Raybon Bros filmed their segments separately and Olivia did her own wardrobe and make-up for the video.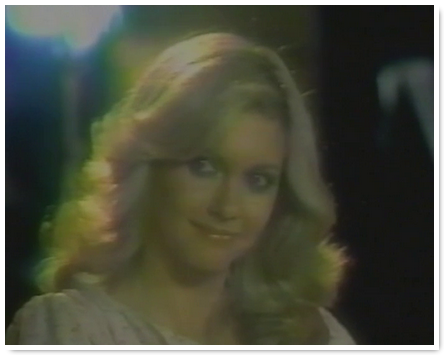 This TV special was made to promote Olivia's 1980 film Xanadu. It's a great look behind the scenes including interviews with Olivia, Gene Kelly, John Farrar, Jeff Lynne (of ELO) and Michael Beck.
There's also rare footage. Originally the ballad Suspended in Time was to be filmed with Olivia (Kira) singing to Michael Beck (Sonny). The ending was also changed for the movie. The one shown in this TV special featured Olivia dancing with Gene Kelly and then been spun into Michael Beck's surprised arms with Olivia asking him originally "do you come here often?"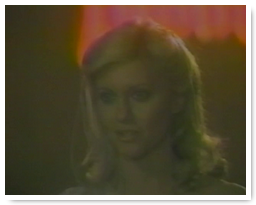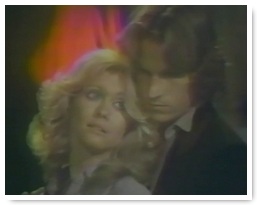 We also get a behind the scene look at the filming of the Fool Country sequence. Olivia and Gene talk about the differences between filming Cover Girl and Xanadu. Back in the 40s Gene was part of a team under contract to the movie studio so there was no need for the long task of casting dancers etc.
The ending of the TV special ends with great footage of the wrap party.
07-02-2016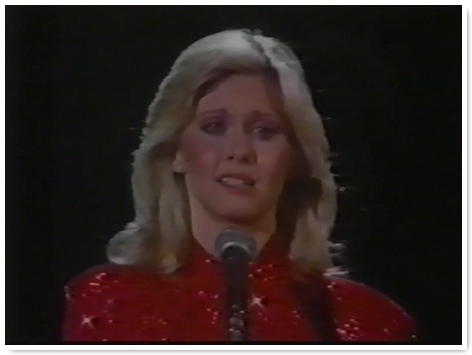 Olivia co-hosts this with Wolfmann Jack to promote her Xanadu movie. Olivia opens the show with Magic dressed in a nifty white shorts combination. Her costumes for this are spectacular without being garish - pure class. This also features a rare performance with The Tubes of Dancin'. This was specially filmed and this version isn't in the movie Xanadu. Olivia plays all the three singers in the girl band which must have taken some choreography.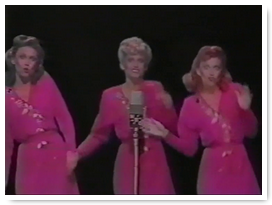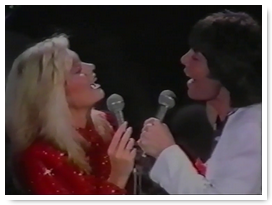 Cliff Richard is there to lend support for Suddenly. There's lovely renditions of Suspended In Time (Olivia sheds a tear or two) and a grown-up Don't Cry For Me Argentina. All the songs are mimed. During the show Olivia is delighted to learn that Magic has reached the number one slot!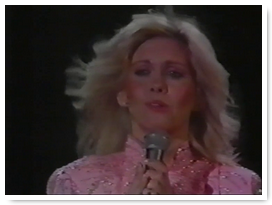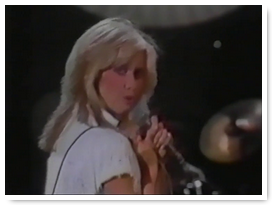 This is bascially the same program as Souvenirs Souvenirs. Some differences are notable though, especially some of the music clips, and a bit of the interview, conducted my Maria Shriver.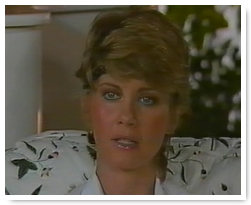 John Farrar also makes a short appearance to discuss his songwriting.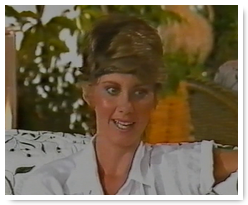 Olivia had her own TV special in Australia to promote her duet album (2).
The special featured live performances of her duets with Billy Thorpe, Tina Arena and via technical wizardry the late Peter Allen (using footage of Peter in concert from many years ago).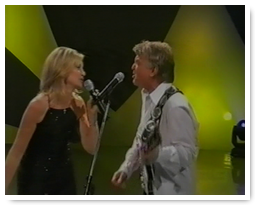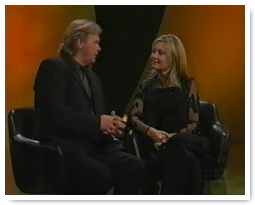 John Farnham also made an appearance bringing with him a Sandy 1 doll from Franklin Mint which Olivia swapped for a John Farnham doll.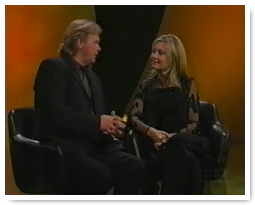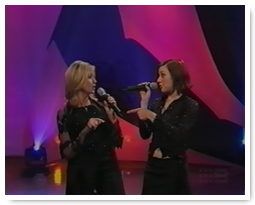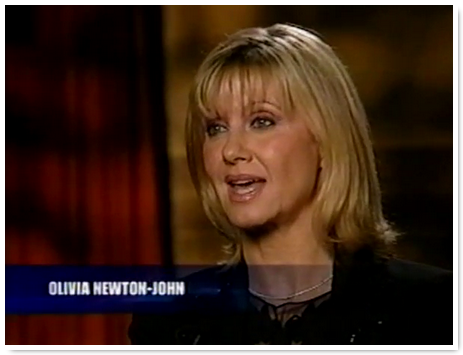 Olivia came 23rd in the UK's best selling artists. This was based solely on on single sales, Olivia having sold 6,493,006 copies which include her Grease number 1 singles. Olivia gave an interview for this and her friends Didi Conn (who played Frenchy in Grease); Cliff Richard and Bruce Welch commented.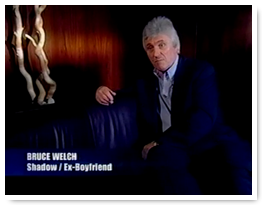 The interview included clips from Grease, her Physical video, her appearance in the early 70s movie Getaway with Cliff and a 70s Country Roads performance. Olivia also commented on fellow chart toppers the Bee Gees and Kylie Minogue (a fellow female Australian entry). Olivia complimented the Bee Gees on their great songwriting and how talented and pretty Kylie was.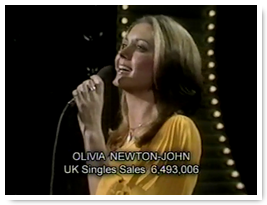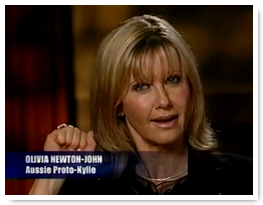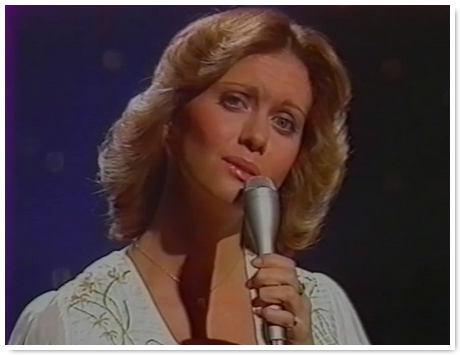 Olivia's second appearance on The Tonight Show with Johnny Carson. She performed Have You Never Been Mellow and Follow Me live. There's also a short interview where she discusses awards and her success in the US.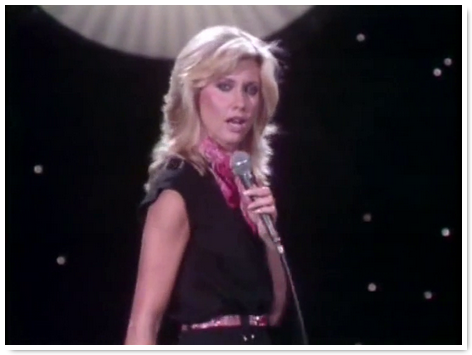 This was most likely filmed at the same time as the footage aired the week before in the same show. Olivia performs Magic from the Xanadu soundtrack in a black outfit.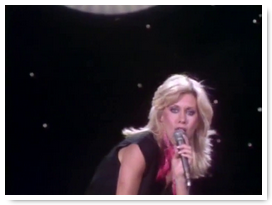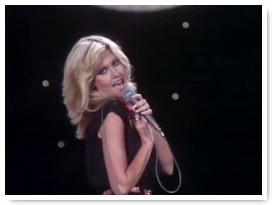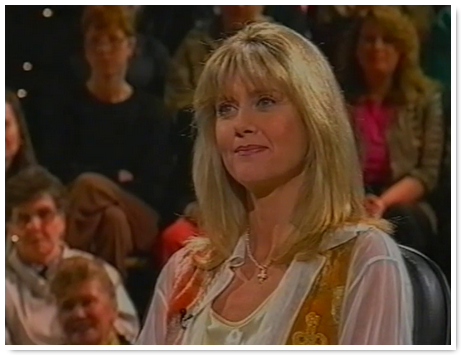 This aired to coincide with the Australian release of Olivia's album Gaia. An in-depth interview with a fantastic rapport between Olivia and her interviewer Ray Martin. Olivia also performed three songs live in the studio : I Honestly Love You, Don't Cut Me Down and No Matter What You Do.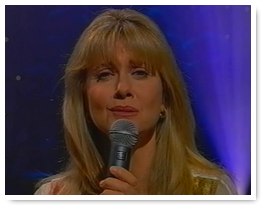 The interview covered most of Olivia's career with some great black and white footage from those early days in Australia. Olivia's 1970 movie Toomorrow came up and Ray sprung a 1969 newspaper interview from New York where Olivia was then filming. She was asked in this if she had any plans of returning to Australia and responded "not just now - this is too groovy!"
The infamous quote from the 70s "if white bread could sing it would sound like Olivia Newton-John" was mentioned. But Olivia just laughed and joked saying that Grease was her chance "To break out - to be brown bread"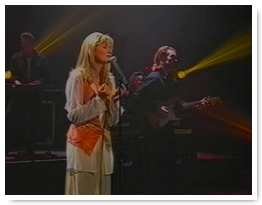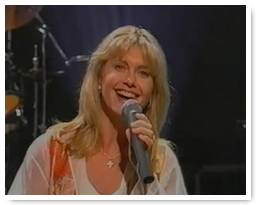 Much of the interview was taken up with Olivia's fight against breast cancer and her album Gaia. She also had chance to promote her nature series Wild Life/Human Nature. Ray also mentioned John Farnham and Olivia said how much she admired him and would like to sing with him - a premonition that was to come true; they performed and toured together for the Main Event tour in 1998!
A wonderful interview - Olivia was at ease joking and laughing throughout.
Summary taken from Only Olivia.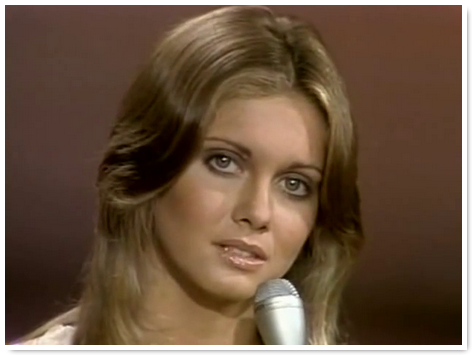 This is one of Olivia's first appearances on US television, if not the first at all. She performed a live version of If from her first album and she duetted with Dean Martin on a medley of Just A Little Lovin' and True Love.