10-02-2016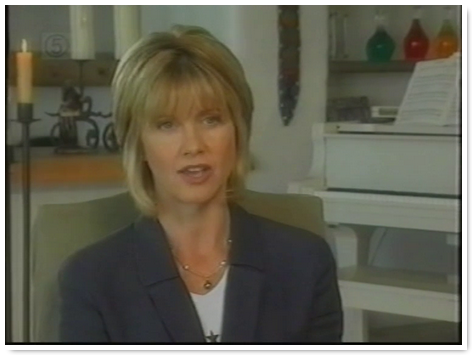 Olivia was interviewed in June 1997 for a British TV programme titled Fame and Fortune, a series inviting the rich and famous to invite viewers to have a look around their homes for a little while.
A pleasant enough interview, though Olivia didn't totally seem at ease and could hardly be charged with giving too much away about herself. The programme makers co-opted Cliff Richard to fill in some of the details for them. He gave a charming account of Olivia's early days in Britain when she appeared on the 'It's Cliff Richard' show in the early Seventies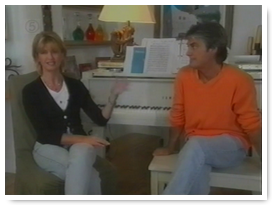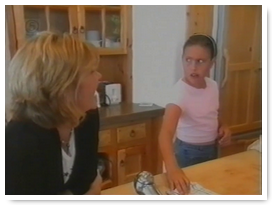 Olivia was guest on daytime show The View. She was first interviewed solo about Grease re-release and her new album Back With A Heart.
Olivia was familiar with The View format; she told the delighted women presenters that she watched regularly and that it was just like having girlfriends around for a chat. One of the presenters returned the compliment as she was a big fan of Grease. She'd had even dressed up as Sandy 2 for Halloween (see pic). She urged Olivia to sign her Grease album.
Olivia joined in with Question of the Day: If you could be the lead singer in any band which would you choose? Olivia chose to be the fifth Beatle.
In the second half of the show Nancy Chuda joined Olivia to talk about CHEC. Nancy had a wonderful quote about chemicals in the products we buy "If you can't pronounce the words in the ingredients, why buy it?"
They talked about trying to prove that chemicals in the environment cause cancers. Olivia insightfully added that they want unconditional proof otherwise: "imagine what it would mean to the big companies, in America - the country of suing".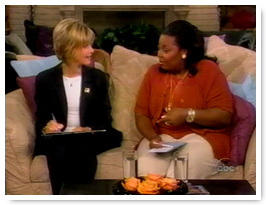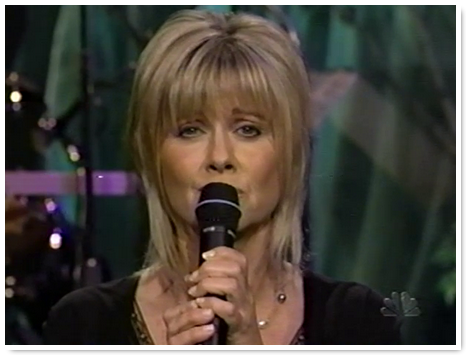 Olivia was guest on the Tonight Show to sing live I Honestly Love You and for a very short interview.
Dressed in black, Olivia delivered a beautiful rendition of the song. Jay thought so too as over the end credits he could be heard telling Olivia "That was terrific, they went nuts." He really wanted his Back with a Heart CD signing too and instructed Olivia to sign it on the CD itself (not on the inlay as she was about too).
About being voted one of 50s most beautiful People, Jay asked if any of them know whereabouts in the top 50 they come. Olivia replied that she didn't know but that she was close to 50 years old! As the photographer for People arrived to take her photo for the magazine Olivia was apparently clearing up the mess from her dog being sick.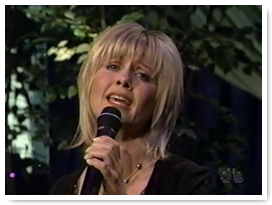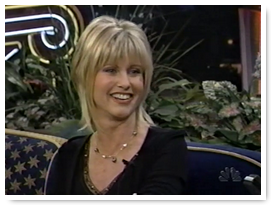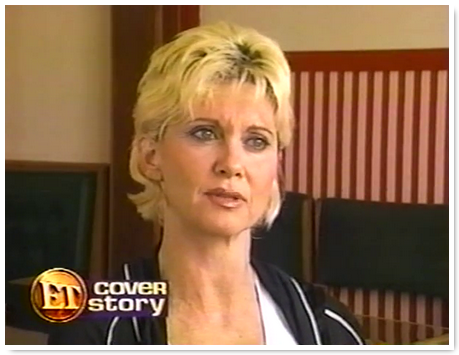 Conducted on the set of the Sordid Lives movie, Olivia performs an impromptu verse of Just As I Am accompanied only by her guitar. She talks of letting go of her perfectionism after going out on tour, making lots of mistakes but surviving them. There's also nice footage of Olivia in the recording studio setting down the title track Sordid Lives.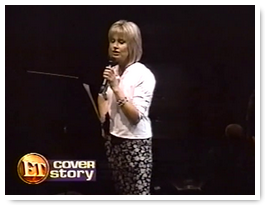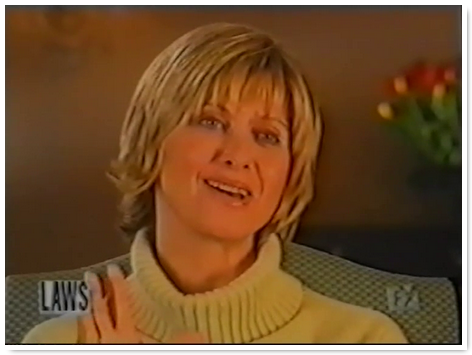 A nice interview with Olivia talking a lot about her earlier days in Australia.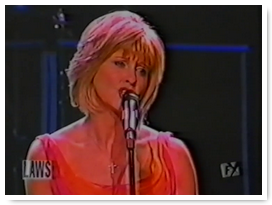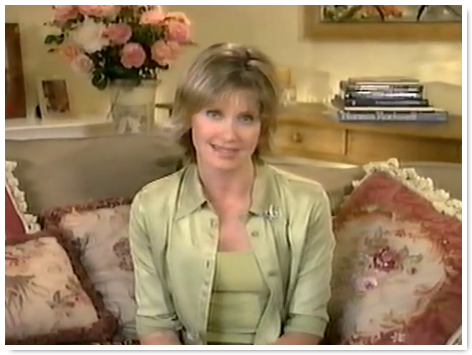 Olivia and Kelly Preston introduce this educational video from CHEC for parents with babies and young children. Also featured are Olivia's great niece (Emerson's daughter) Valerie Fifield-Hall and Kelly's daughter Ella Bleu Travolta.
Olivia is spokesperson for CHEC, a charity set up by her friend Nancy Chuda after the death of Nancy's 5 year old daughter from a non-genetic form of cancer.
Olivia hosts the video for a good 50%. Her song Somewhere Over The Rainbow is also featured (taken from her One Woman's Live Journey CD). Olivia and Kelly also helped write the script for the video.
More info on CHECNET.ORG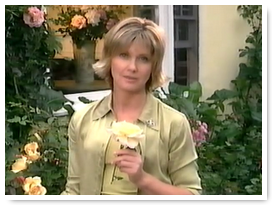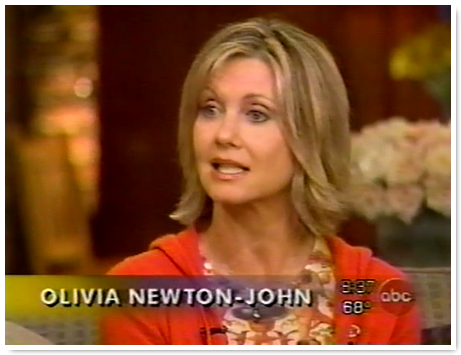 Olivia, Kelly Preston and Nancy Chuda appeared on Good Morning America to promote CHEC's campaign for labelling household products. The interview was very informative. Apparently, up to 97% of ingredients in household products, cleaners etc, are inert (ie trade secrets). So it's impossible to know what's in these products. 90% of chemicals used in the home haven't been tested for children who have weaker immune systems than adults.
When asked by the host, Dianne Sawyer, how they can prove that household products aren't safe for children Olivia answered that it's best to err on the side of safety and use alternate products in the home - ideas and suggestions are available in their new video "Under My Roof" (see www.checnet.org).
Dianne asks Olivia about her how she's doing after her breast cancer and Olivia answers with a smile but a quiet, humble "doing great, thank you."
Nancy Chuda gives Dianne Sawyer a CHEC pin which Dianne drops concentrating on the next show's link. Olivia picks it up and hands it back laughing. The show ends with Olivia and Kelly joining in with Good Morning America's dancethon.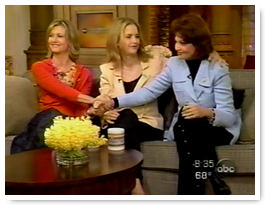 Olivia and Kelly Preston joined Rosie O'Donnell to talk about CHEC.
Olivia talked a lot during the interview (which is unusual when she's on simultaneously with another guest); the issue is so close to her heart. They promoted the CHEC video and the web site, www.checnet.org, which had half million hits so far from their previous day's promotion.
Rosie asked if there was scientific proof to link toxins in household products to childhood illnesses. It would add more credibility to the campaign if they could quote a couple of studies (such studies have been funded by CHEC) but as Olivia admits she's no scientist. It's common sense to err on the side of safety.
The charity book Hollywood Moms which features Kelly Preston, Olivia and Rosie O'Donnell and their daughters was mentioned and a copy of this and the CHEC video were given to the audience.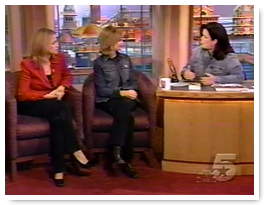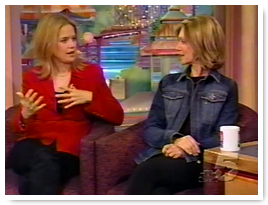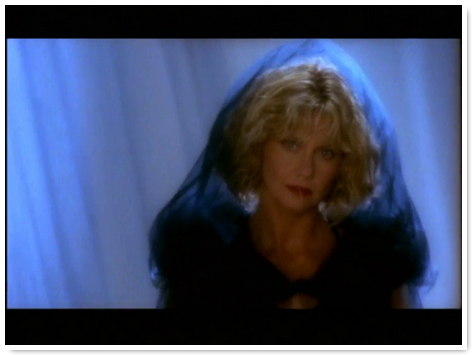 This is the music video for Olivia's duet with Cliff Richard from his 1995 album Songs From Heathcliff.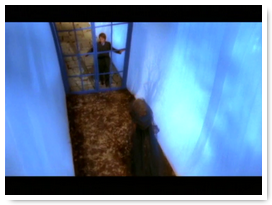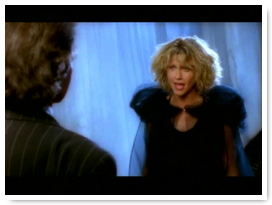 The video is very simple, Oliva and Cliff separated by a door in a long sort of hall.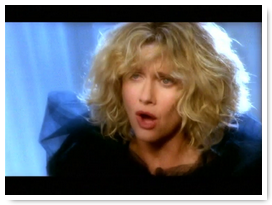 11-02-2016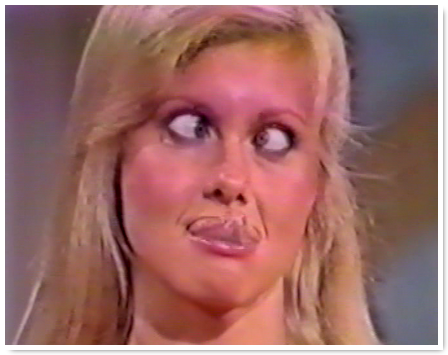 Olivia along with her sister Rona and nephew Emerson (only 5 years old at the time) were Mike Douglas's special guests on his legendary talk show. Jeff Conaway from Grease, and also Rona's fiancée at that time, was co-hosting with Mike.
Olivia was in the middle of taking a 6 month break from work. Olivia thanks all her fans for sending letters and gifts to her whilst she was in hospital with flu earlier in the year.
To keep her ego in check Olivia keeps a photo on display in her house of her pulling a funny face taken during a photo shoot some years earlier. She treats viewers to the exact facial expression.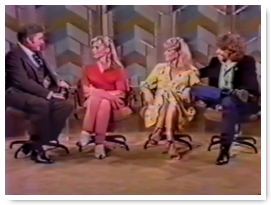 During the show Olivia showcases her sexy new video and single Totally Hot. Mike asks about Olivia's fear of heights - for the video she had to jump 6-8 feet from a bench onto an airbag and she was terrified
Rona and Olivia are clearly very close and Emerson is very comfortable in Aunt Olivia's arms. However, it wasn't always so, Rona admits to being horrid to Olivia when they were younger. Olivia frightened of the dark was shut in cupboards by Rona!
The highlight of the show is Olivia, Rona, Jeff and Mike cooking an old Newton-John recipe - Potato and Leek soup. Jeff has trouble peeling and chopping the potatoes causing much amusement. Olivia however is a natural in the kitchen, instructing Mike how to cut up leeks so as not to waste any.