11-02-2016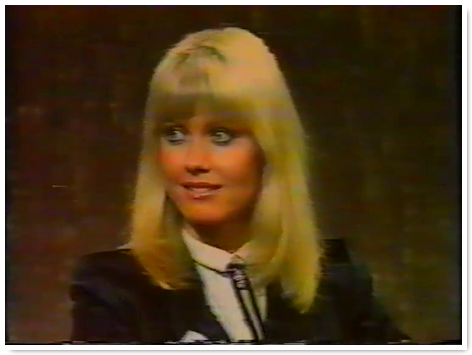 Olivia is a guest on Michael Parkinson's 200th show. Michael Parkinson is a respected chat show host in the UK and he's still going strong in 2003.
Olivia is adorable on this and very modest about her recent success in Grease. She's also joined by the Hollywood great Gloria Swanson. Gloria offered Olivia some advice - not to take sugar in her tea and Olivia has been trying to follow this advice ever since.
Parkinson asks Olivia about future movies and whether she's ever been asked to appear nude. Olivia says no as they know she doesn't want to do that. Hustler magazine had recently offered Olivia a million dollars to pose nude but Olivia had turned them down thinking it "vulgar". Gloria is so taken with Olivia that she calls her "so lovely".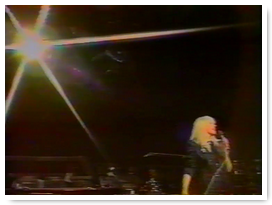 Olivia performs her sexy song A little More Love and then Dame Edna Everage is the next guest. Olivia gives Dame Edna an Australian badge with the icon of three ducks going up a wall (?). Olivia cracks up at Dame Edna's humour throughout.
Elton John is the final guest and jokes about his and Olivia's supposed romance. Some bathrooms in New York (called Johns) are labelled Elton for men and Olivia for the women.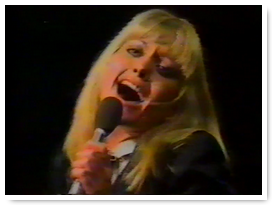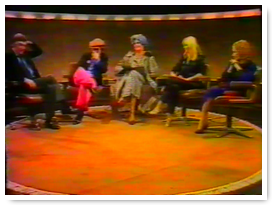 Olivia is a co-presenter on this and also receives her three 1975 awards. Highlght is her live medley of her hits including Let Me Be There, Please Mr. Please, Have You Never Been Mellow, If You Love Me (Let Me Know) and I Honestly Love You. She also performs a lovely rendition of What'll I Do/Always.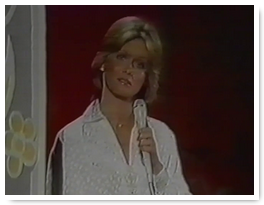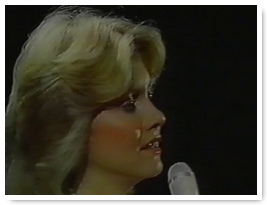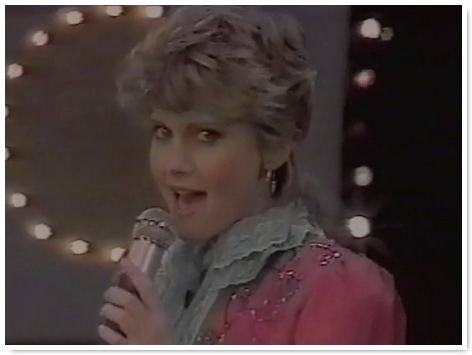 Olivia visited Caracas, Venezuela for a promotional visit for her album Physical. This TV appearance is noted for her performance of Silvery Rain and for dancing a Venezuelan traditional dance called "Joropo" with the host!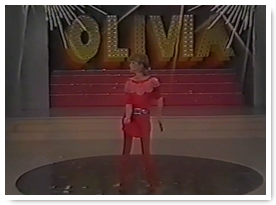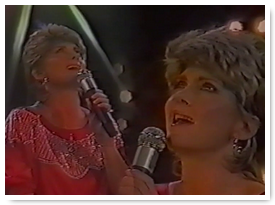 Although Olivia mimes the songs (Landslide, Carried Away, Make A Move On Me, Silvery Rain & Physical) it's a very energetic performance and Olivia looks great in black pants and colorful blouses. She gets the studio audience clapping along to Physical. The TV program took some care with the set and Olivia's name is up in huge lights.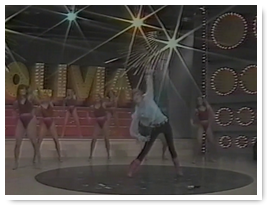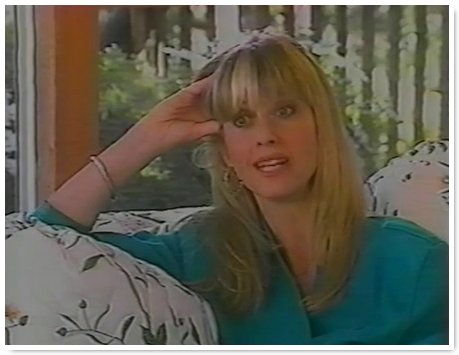 This is wonderful - a TV special about Olivia's 1989 album Warm & Tender produced by VH1. Olivia talks about the album, her environmental concerns, her love of animals and filming the video to Reach Out For Me. The special starts with a montage of Olivia's career to date, this is taken from her 1982 live video but updated to include the Soul Kiss album and the birth of Chloe. Olivia speaks about how this lullaby album came about - inspired whilst singing to Chloe trying to get her sleeping. The release of this album comes too late for Chloe as she's now 5 years old! But it'll always make a nice gift for new parents.
There's cute footage of Olivia grooming her horse and dogs. Judge, the horse we met in the Physical TV special and Jackson, her red setter, are featured. Jackson is now 15 years old so can't follow them up into the Malibu hills where Olivia is filmed riding.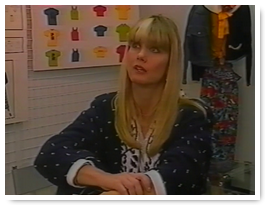 Olivia mentions her new role as United Nations Goodwill Ambassador for the Environment (1989 - 1993) and footage from a recent visit to the Amazon forest in Brazil is shown. We also visit Olivia at her then clothing business Koala Blue where she quips that she sometimes feels that she has too many clothes! We're also privy to Olivia's photo shoot modelling Koala Blue clothes.
The special ends with the filming of the Reach Out For Me video, the single from the album. Chloe is very briefly featured in this video. There's a behind the scenes look - attempts to organize the children will never be easy. It's funny to see the crew member hiding in the grass to let the white doves out of a basket just as Olivia walks by (in the finished poduct this is all carefully edited out and it looks completely natural). Over the end of the TV captions Olivia has added this message: "This program is dedicated to the children of the world and to the people who are striving to make our planet a better place for them to live"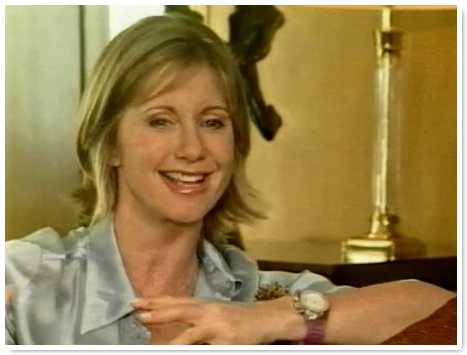 Review taken from Only Olivia newsletter July/Aug 2001
This interview was filmed for Renaissance Television, which is a Melbourne, Australian channel aimed at the senior market - although they class senior as over-45. The interview was recorded when Olivia was in Melbourne in April during a break in filming for her Showtime TV movie.
Sue and Olivia have known each other since the 60s and are clearly good friends. During the interview it was obvious they'd had some private discussions about some of the topics raised, most notably Bill Clinton owning some of Olivia's records. They also giggled at fun times together in London in the swinging-sixties.
Olivia dressed in blue jeans t-shirt and blouse and bare feet, looked very relaxed and happy curled up on the sofa next to Sue. They spoke about Olivia's amazing year 2000 including her invitation to sing for the Pope. Olivia got the call on Tuesday for a Thursday performance; she couldn't turn it down and took Chloe and Patrick. This was the first time during a televised interview that Olivia has explicitly mentioned her "boyfriend" Patrick by name.
After a 15 hour flight, a reporter at the airport told Olivia that the Pope wasn't going to be at the concert after all! Sure enough he didn't make it (due to his ill health) but Olivia, Chloe and Patrick had an audience with the Pope the next day. In the end this worked out better as they got to visit the Vatican.
Olivia was excited to meet the Pope, describing what she thought to herself on his entrance: "I said Oh My God it's the Pope" after realizing what she'd just said in the interview she laughed and added, "My God - I don't think I said that! I said yes it's the Pope." Even though she isn't a Catholic Olivia has a lot of respect for what the Pope stands for - goodness and spirituality. Chloe on the other hand was very nervous, her grandmother (on Matt's side) is Polish/Italian and a Catholic, she'd spoken to Chloe about it. Chloe got very emotional when the Pope laid hands on her and gave her the rosary.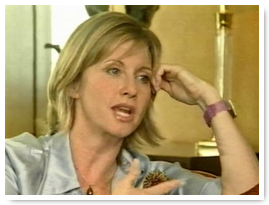 Sue and Olivia also talked about the charity benefit with the Clintons where Olivia sang. President Clinton gave a speech during which he said he owned Olivia's records.
Olivia spoke about the early days in London including the time she and Pat Farrar sang in Raymond's Revue bar in London - oblivious to the fact that it was a strip joint! Olivia can recall the year she moved to the USA as "being after the Eurovision in 1974" - obviously her experience at the Eurovision Song Contest in England remains in memory as one of the lows in the career.
Discussion moved onto Olivia's concern with the planet and her worries about the effect that we're having on it. She caught herself moving into the negative saying: "I don't want to go there. This is a happy show." Interestingly, Chloe is a vegetarian inheriting Olivia's love of animals. Olivia's breast cancer is referred to but more in the context of her album Gaia which came out of it. Olivia mentioned that it's still not released in the USA because at the time there wasn't the market for it and she couldn't get it released in the way she wanted. She hopes it'll be released at the end of this year, maybe as part of the box set or greatest hits package.
Olivia praised her own mother for letting her do her own thing and realizes that she must do the same with Chloe. "I can be there to help her and guide her but she knows what's right and what's wrong for her." Olivia's mum let her move into a London apartment with three other girls at 17 and tour Europe by train with Pat with just £50. When Sue refers to letting their own daughters do such things they both scream with half-mock worry
The interview lasted about half an hour and Olivia was more relaxed and open than usual due in no small part to her friendship and trust for the interviewer. It was also good that Sue McIntosh covered new ground and approached some "old" subjects in a new way.
12-02-2016
Olivia gave a short interview in Good Morning America in 1981 to promote her Physical album. She discusses her change of tastes and her new hairstyle.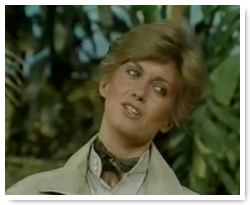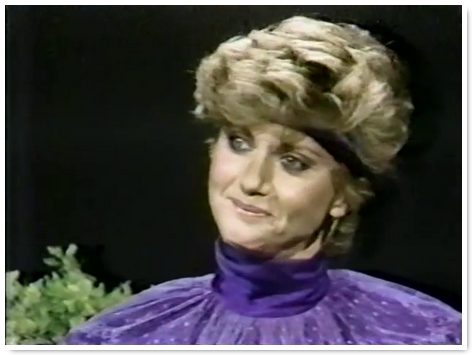 Olivia performs a lovely live rendition of The Promise from her Physical album. The during the interview she talks about the experience of swimming with the dolphins for the video. She describes their sense of humour and intelligence "They're beings not animals at all." The dolphins flirted with her and one tried to push her out into the deep water but she told it to stop and it did!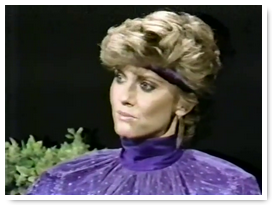 She talks about the gossip that surrounds her regarding male suitors. She only has to be photographed with a male and the press reports that they are going out. She tells the host Tom Snyder "it'll be me and you after this show" Tom replies "You want it, you got it!"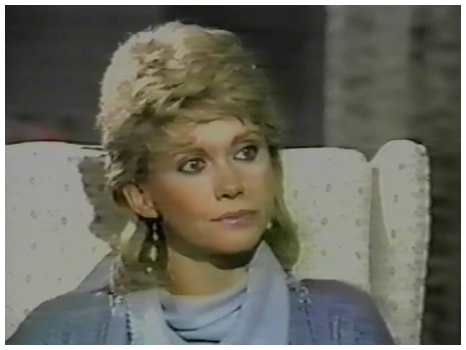 An interesting interview, although it feels that the interviewer is talking more than Olivia! Topics covered include movie roles that never happened, Olivia's ambition for the role of Evita and security. There's also a brief look behind the scenes at Olivia putting on her make-up and almost entering the wrong door to the studio.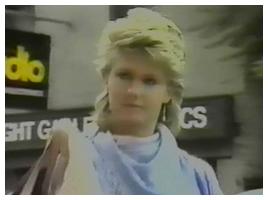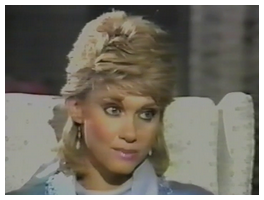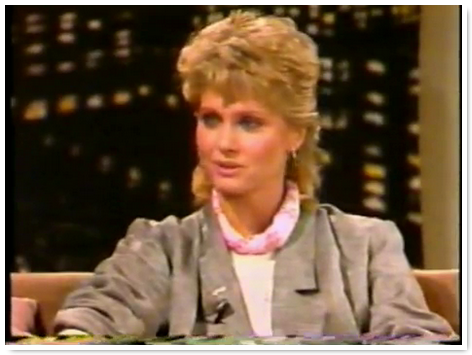 Olivia appeared on this TV show whilst in South Africa for her Physical tour. The programme shows footage of Olivia arriving with boyfriend Matt Lattanzi at the Jan Smuts airport (now Johannesburg International Airport) the airport is crammed full of fans!
The interview covers the Physical TV special which took 3 months to film and clips of Physical and Grease are shown.
Olivia is asked her opinion of Grease2. This was before it got the panning by some critics. Olivia doesn't appear over-enthusiastic but describes it as "fun" and she thinks it'll do well. She says that a comparison with the first movie can't be made and that it would always be difficult to do a follow-up.
Olivia talks about her OBE in 1979. She remembers that the Queen was wearing pink cashmere and pearls. She also repeats the story of falling down the stairs in the royal bathroom. Even Princess Margaret (the Queen's sister) commented on this when she met Olivia at a movie premiere a few days later "I believe you fell down the stairs in the bathroom."
Olivia is asked about her love life and Matt appears briefly on screen, both agreeing that their romance is going well.
Matt Munroe is mentioned as Olivia and Pat Farrar were an opening act for him in South Africa. Olivia can't remember the exact date but it was between 1966-1968.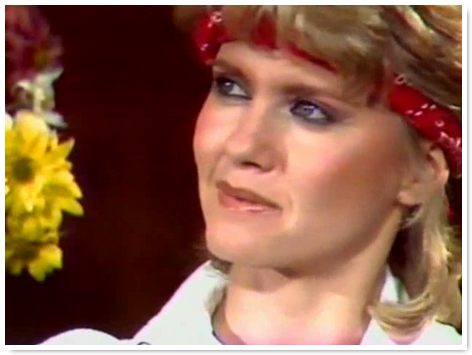 This is Olivia's second interview in South Africa. Several clips from her career are shown throughout the show.