05-02-2016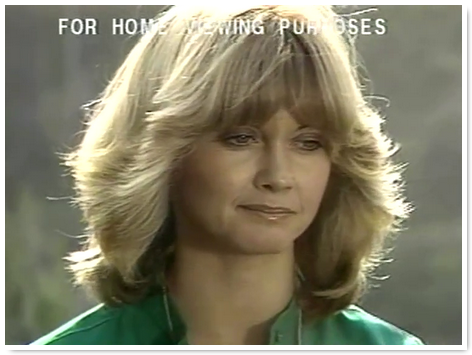 I'm gonna be lazy on this summary, but the great guys from Only Olivia did such a good job with it I'm gonna use theirs :)
A great interview from Olivia's Malibu ranch. Three of her dogs are present, two Great Danes and Jackson, a red setter. Jackson slobbers all over Mike's trousers, he pretends it is okay but you can see he's a bit peeved.
Olivia is very sweet in this. Her answers to Mike's questions are thought out and not rehearsed, or maybe she hasn't yet been asked them hundreds of times like she has these days.
Back in 1974 when Olivia first appeared on Mike's show she amazed the crew by ironing her own dress. Mike asks if she still likes to do things for herself and Olivia admits "not as much as I used to". However, she still cooks.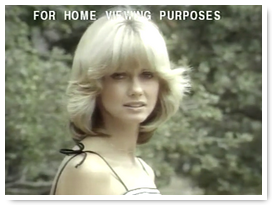 She is asked if she'd like to get married and she replies she isn't sure "Sometimes I would, sometimes I wouldn't." At the time she was with Lee Kramer and this reply reveals the reported ambivalence of their relationship. She says she'd like two children eventually. Mike asks what she has splurged on since becoming wealthy - a convertible Volkswagen, her animals and then clothes.
Mike asks about the key necklace she is wearing. This was given to her on her 21st birthday by a friend. It represents "the key to the door." The key denotes independence on your 21st birthday. This symbol isn't common in America but is a traditional right of passage in Britain and Australia.
They play Olivia's video Every Face Tells A Story and Olivia is asked about her musical training. She hasn't had any and sings by ear, she picks a tune up very quickly and she can play about 12 chords on the guitar.
Olivia takes time to answer when asked if she thinks she's changed since her success, she can't really tell but thinks she has kept her values.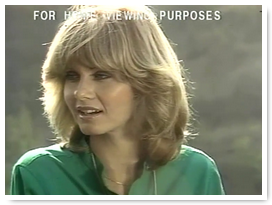 06-02-2016
Olivia made a cameo appearance on The Carpenters' Very First Television Special. She presented Richard with an award and champagne during his car race with Al Unser and Johnny Rutherford. The race took place at the Riverside Raceway, California.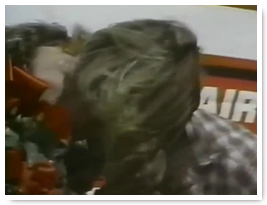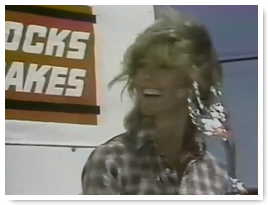 Olivia's first US televsion special aired on ABC in Nov. 1976. She used it as vehicle to promote her Don't Stop Believin' LP, as well as some of her hits.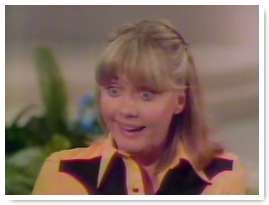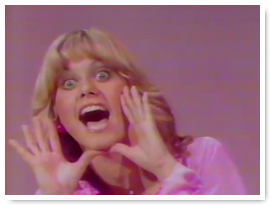 The plot is very clever : Olivia is trying to get guest stars for her special, but things don't seem to work out her way : Ron Howard and Tom Bosley want to sing, Lee Majors ends up wanting to have his own special, Wonder Woman (Lynda Carter) is too busy fighting crime and corruption, not to mention gossip columnist Rona Barrett criticizing everything about Olivia's show. Only Elliott Gould goes out of his way to be part of the special, only to end up being very business-ish when it comes to contracts.
Of course, what makes it all clever is that all these celebrities appear on the show.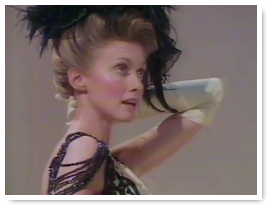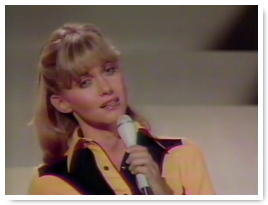 We owe this great quliaty file to YouTube user rkrause957 : if it weren't for him, we would only have a copy of a copy of a copy... I have one somewhere where it's basically all white and yellow, Olivia's eyes being the only thing that pop. So if you guys want to send thank you messages to someone for this, go visit rkrause957's YT channel and use the comments feature to thank him ! :)
Songs :
Love Song
Don't Stop Believin'
Stepping Out With My Baby (Elliott Gould)
Pony Ride
All I Need Is The Girl (Elliott Gould)
I've Got Them Feeling' Too Good Today Blues
Anything Goes Generation Medley : Every Little Movement / Running Wild / 42nd Street / Shoo Shoo Baby / Sh-Boom (Life Could Be a Dream) / Lucy In The Sky With Diamonds / Love Is Alive
As Time Goes By
A Cup Of Coffee, A Sandwich And You / They All Laughed (Elliott Gould)
Sam
Please Mr. Please / Have You Never Been Mellow / Let Me Be There / Let It Shine
I Honestly Love You
11-02-2016
Olivia is a co-presenter on this and also receives her three 1975 awards. Highlght is her live medley of her hits including Let Me Be There, Please Mr. Please, Have You Never Been Mellow, If You Love Me (Let Me Know) and I Honestly Love You. She also performs a lovely rendition of What'll I Do/Always.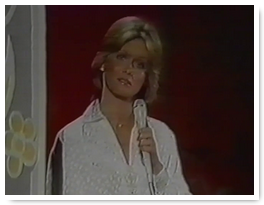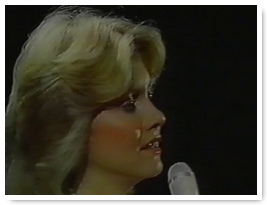 09-05-2016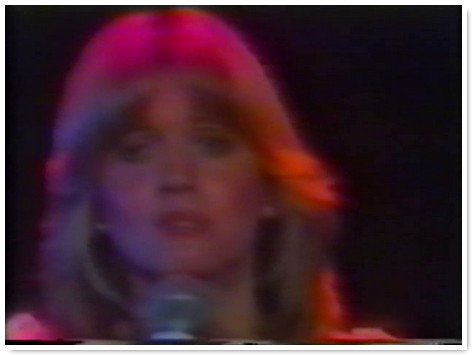 Olivia's Japanese tour in 1976 was screened on Japanese TV.
The Japanese audience are very appreciative of Olivia and shout greetings to her between songs. Olivia isn't sure how to react to their enthusiasm. She thrills them all at the end of the concert when she says I Honestly Love You in Japanese.
John Farrar accompanies Olivia on stage playing guitar.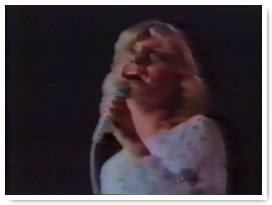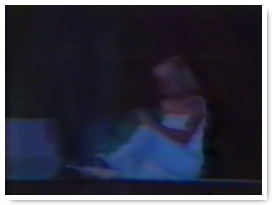 Jolene
Country Roads
Let It Shine
Don't Stop Believin'
Let Me Be There
Pony Ride
Nevertheless/As Time Goes By
Love Is Alive
New Born Babe
Have You Never Been Mellow
If You Love Me
I Honestly Love You