05-02-2016
Oddly enough, I was originally saving this for tomorrow, but then I found out about the passing of Maurice White, leader of legendary 70s group Earth Wind & Fire and as they were part of this show, I thought I'd share it right away.
RIP Mr. White.
1979 was the International Year of the Child and, in that context, several artists from the late 70s gathered for a unique concert where they'd give away the rights to a song to benefit UNICEF. Hosted by David Frost, Henry Winkler, Gilda Radner and Henry Fonda, the show's lineup was all late 70s A-list : the Bee Gees, Andy Gibb, Donna Summer, Earth Wind & Fire, Kris Kristofferson, Rita Coolidge, John Denver, Rod Stewart, ABBA and Olivia Newton-John.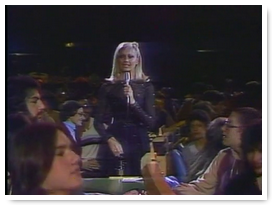 Held at the United Nations General Assembly Hall on January 9th 1979, the show was broadcasted the next day on NBC and later in about 70 countries (the version I've loaded being the French broadcast from March 26th, 1979 - with a slightly different edit and French subtitles - digital quality). A live album was also released, including some different versions of some of the songs (for instance, Olivia's The Key is not taken straight from the televised version)
Credits :
Executive Producers : Robert Stigwood, David Frost
Produced by Marty Pasetta and Ken Ehrlich
Directed by Marty Pasetta

Opening Medley (including Let me be there + Olivia singing on ABBA's He is your Brother)
Kris Kristofferson & Rita Coolidge : Fallen Angels
Olivia Newton-John : The Key
Andy Gibb : I go for you
Earth Wind & Fire : September/That's the Way of the World (introduced by Olivia Newton-John)
Rod Stewart : Da ya think I'm sexy ?
Donna Summer : Mimi's Song
Olivia Newton-John & Andy Gibb : Rest your Love on Me
ABBA : Chiquitita
John Denver : Rhymes & Reasons
Bee Gees : Too much Heaven
All artists : Put a little Love in your Heart (Olivia duets with Barry Gibb on the second verse)
In early 1979, Olivia was awarded the Order of the British Empire in London. In this news report, she explains how nervous she was because of all the protocole, and explains what she can wear the award with - as it is kind of a medal.
The file I have is rather low quality, so I'll try to find an upgade soon.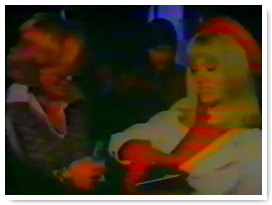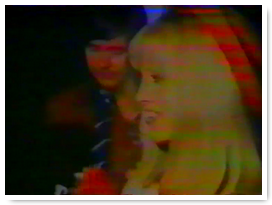 06-02-2016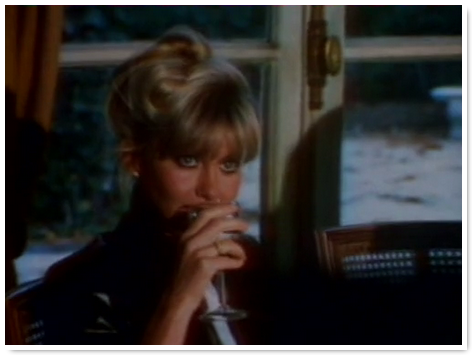 This was taped during Olivia's visit in France in November of 1978, but aired in early 1979. It's basically footage of Olivia enjoying herself in Paris, visiting chef Gaston Lenôtre's kitchen and walking around the Notre-Dame cathedral in Paris alns with French TV producer Marie-France Brière. The interview is heard over the footage, with Totally Hot tracks Please don't keep me waiting and Dancin' 'round and 'round playing as background music.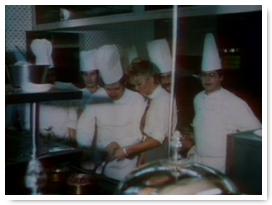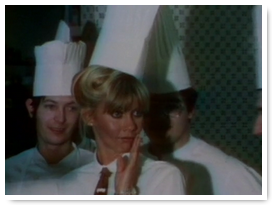 As the interview is rather short, we don't get to learn much, except that Olivia used to skip school to go to the movies and watch Blazing Sun (Plein Soleil) starring Alain Delon. She then talks about her beginning as a singer in her brother-in-law's coffee lounge.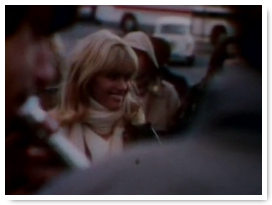 11-02-2016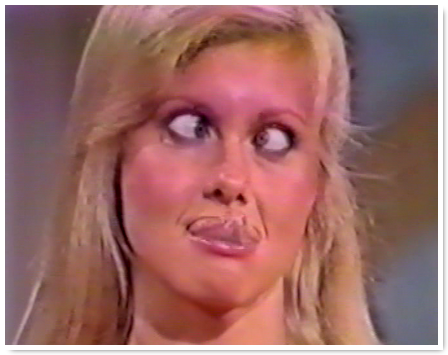 Olivia along with her sister Rona and nephew Emerson (only 5 years old at the time) were Mike Douglas's special guests on his legendary talk show. Jeff Conaway from Grease, and also Rona's fiancée at that time, was co-hosting with Mike.
Olivia was in the middle of taking a 6 month break from work. Olivia thanks all her fans for sending letters and gifts to her whilst she was in hospital with flu earlier in the year.
To keep her ego in check Olivia keeps a photo on display in her house of her pulling a funny face taken during a photo shoot some years earlier. She treats viewers to the exact facial expression.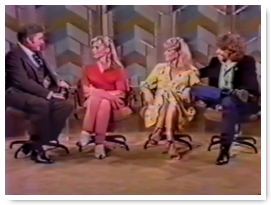 During the show Olivia showcases her sexy new video and single Totally Hot. Mike asks about Olivia's fear of heights - for the video she had to jump 6-8 feet from a bench onto an airbag and she was terrified
Rona and Olivia are clearly very close and Emerson is very comfortable in Aunt Olivia's arms. However, it wasn't always so, Rona admits to being horrid to Olivia when they were younger. Olivia frightened of the dark was shut in cupboards by Rona!
The highlight of the show is Olivia, Rona, Jeff and Mike cooking an old Newton-John recipe - Potato and Leek soup. Jeff has trouble peeling and chopping the potatoes causing much amusement. Olivia however is a natural in the kitchen, instructing Mike how to cut up leeks so as not to waste any.