05-02-2016
Souvenirs Souvenirs was the French version of US TV series Portrait of a Legend which was produced and aired in the US in the early 80s, the interview bits used in this version are basically the same as on the original one.
There are some differences though : the French host was singer Johnny Hallyday, while the original program was hosted by James Darin. But most interestingly, some of the music clips are somewhat different : the French version includes an almost full version of Maybe then I'll think of you performed at the 1973 Tokyo Music Festival (only the intro is missing), they used the Australian Royal Variety Concert for Hopelessly devoted to you instead of the one from Hollywood Nights, and the Have you never been mellow clip is a bit of a mystery to me, as I've never seen it anywhere else.
Otherwise, it's basically the same program : a look back at Olivia's career up to that point (this was aired in the US in August of 1981, so Physical was not yet out even though she already wears the then new hairstyle) where she reflects on her winning a talent contest at the age of 14, creating the Sol Four group, John Farrar's songwriting and her expectations for the future.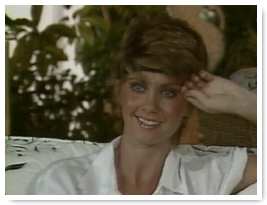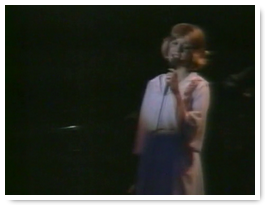 This version is subtitled in French, I'll upload the original US version eventually.
26-02-2016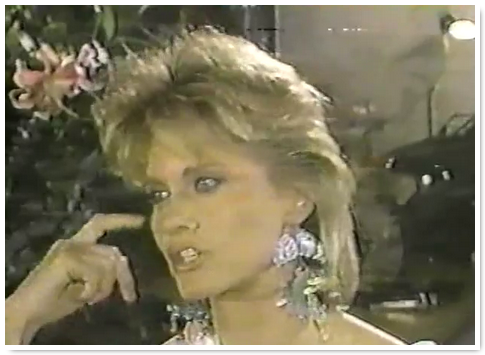 Alan Thicke had an syndicated talk show in 1983-84 and visited Koala Blue the day before it opened in Los Angeles.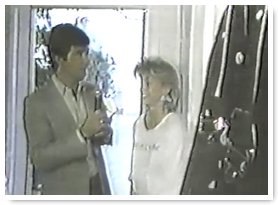 The visit is supposedly unplanned (and Olivia and Pat Farrar give convincing performances for the viewer to half believe that this is so). Alan arrives to find Olivia in the Sheila (Australian for the ladies' bathroom). Through the door he asks her to guess who he is, asking "Who's your favorite American TV personality and helped you have most American TV success?" - Olivia answers Dick Cavett then Dick Clarke and finally Bob Hope. (Alan has worked with Olivia a number of times including her 70s TV specials).
Olivia shows us around Koala Blue and introduces us to the infamous Vegemite that the store sells along with Aboriginal prints, Australian candy and a visit to the milk bar.