05-02-2016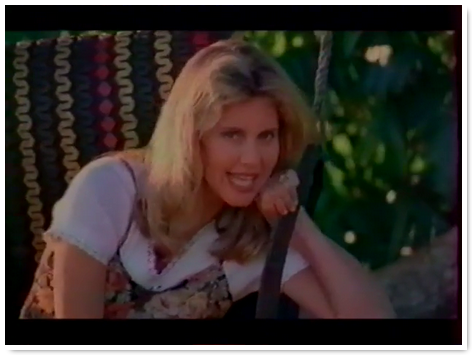 This is the No Matter What You Do video, filmed at Olivia's Byron Bay (AU) home. It's a mix of footage of Olivia in a studio and in her property.
This video also includes the unaired French commercial for her Gaia album.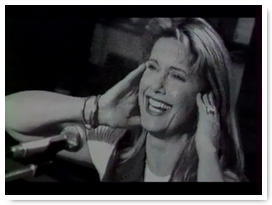 07-02-2016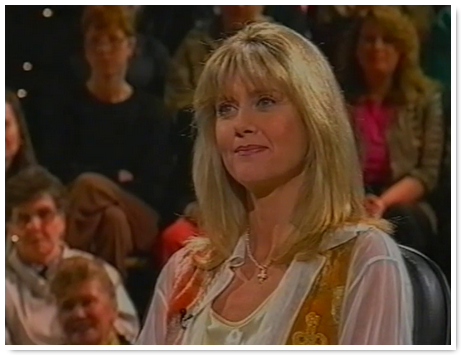 This aired to coincide with the Australian release of Olivia's album Gaia. An in-depth interview with a fantastic rapport between Olivia and her interviewer Ray Martin. Olivia also performed three songs live in the studio : I Honestly Love You, Don't Cut Me Down and No Matter What You Do.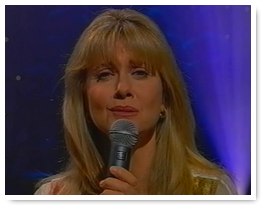 The interview covered most of Olivia's career with some great black and white footage from those early days in Australia. Olivia's 1970 movie Toomorrow came up and Ray sprung a 1969 newspaper interview from New York where Olivia was then filming. She was asked in this if she had any plans of returning to Australia and responded "not just now - this is too groovy!"
The infamous quote from the 70s "if white bread could sing it would sound like Olivia Newton-John" was mentioned. But Olivia just laughed and joked saying that Grease was her chance "To break out - to be brown bread"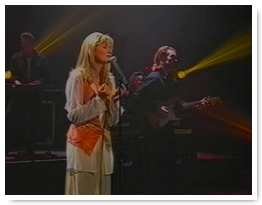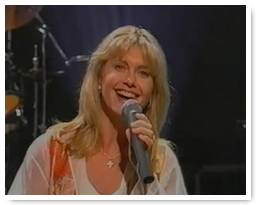 Much of the interview was taken up with Olivia's fight against breast cancer and her album Gaia. She also had chance to promote her nature series Wild Life/Human Nature. Ray also mentioned John Farnham and Olivia said how much she admired him and would like to sing with him - a premonition that was to come true; they performed and toured together for the Main Event tour in 1998!
A wonderful interview - Olivia was at ease joking and laughing throughout.
Summary taken from Only Olivia.
16-02-2016
During this interview host Derryn Hinch tells Olivia that he predicted she'd win the Sing Sing Sing contest all those years ago, not because of her voice but for her looks. Well he was only 20 at the time. Despite this faux pas the interview is very friendly.
Olivia talks of recently becoming an Australian Citizen and that she was fed up with having to line up as a foreigner at passport control. They discuss the possibility of Olivia getting into Politics which she dismisses straight away. She comments that many good people don't run for election because, as in showbusiness, your private life becomes public property and no one is perfect.
The audience think Olivia is crazy for enjoying doing the clothes washing. In Malibu she cannot hang the washing outside to dry because the air quality isn't great and people there would think you "strange". In Australia she hangs it out to dry because it smells so good.
The interview ends with a birthday cake, Olivia's birthday was the previous day (she'd been thrown a surprise lunch).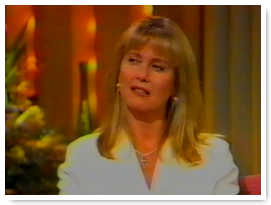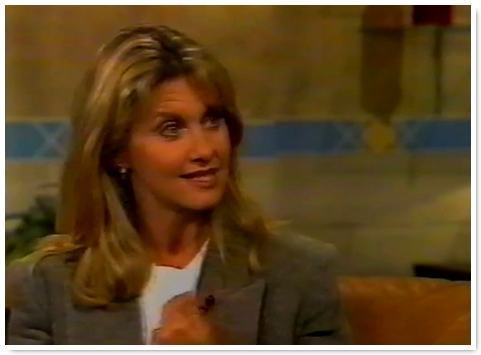 Olivia gave an interview in Bert Newton's Today Show in Australia to promote Gaia, One Woman's Journey.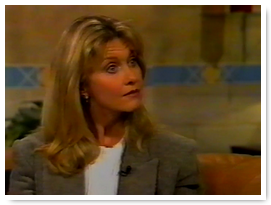 Short interview to promote A Christmas Romance.