06-02-2016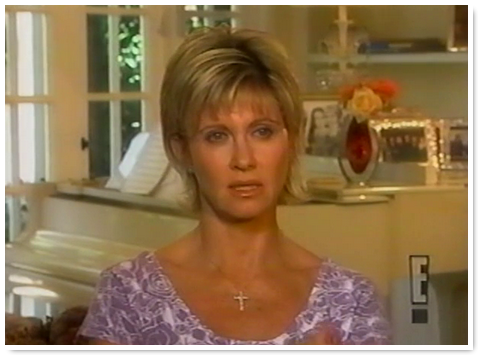 This in-depth interview with Olivia aired just before Olivia's spectacular performance at the Olympics 2000 opening ceremonies. It also featured interviews with Nancy and Jim Chuda, sister Rona, David Foster, Randal Kleiser, Didi Conn and John and Pat Farrar.
The program gave the lowdown on Olivia's career but also concentrated on her personal life including her battle with breast cancer. One of the most moving moments was Olivia, Nancy and Jim speaking about Colette Chuda's last trip to Disneyworld in Florida. Colette was in a wheelchair by this time and displayed such bravery, Olivia would swim with her and sing to her when she was in pain. Olivia is very tearful when she speaks about her death one of the worst tragedies - against the natural order of things for a child to die before its parents.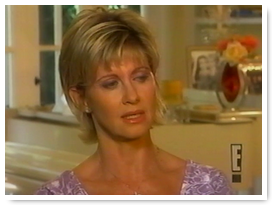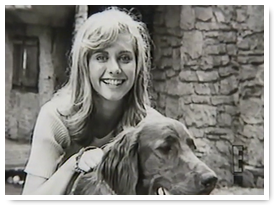 On a more lighter note Olivia and Pat giggled about the early days in London when they got their microphone leads tangled up on stage. They had only practiced their dance routines with coke bottles so the leads came as a surprise! Olivia remembers her first night in America at the Hotel Sunset Marquee, LA and hearing gun shots on the street below - luckily this didn't frighten her off America and she went onto career heights.
Behind the scene footage on the set of Xanadu was a welcome addition - Olivia clowning around with co-star Michael Beck. Olivia attributes the box office failure of both Xanadu and her later movie with John Travolta Two Of A Kind due to their script problems. But Grease more than made up for this!
Olivia's friends: Nancy Chuda, Didi Conn and David Foster are amazed and delighted at just how down to earth, natural and "so not like a celebrity" Olivia really is. David Foster describes the syndrome "one hit record six bodyguards" but with Olivia six hit records no bodyguards!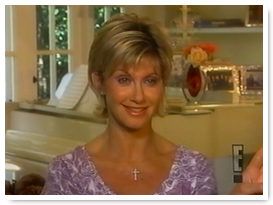 summary taken from Only Olivia
10-02-2016
A nice interview with Olivia talking a lot about her earlier days in Australia.
12-02-2016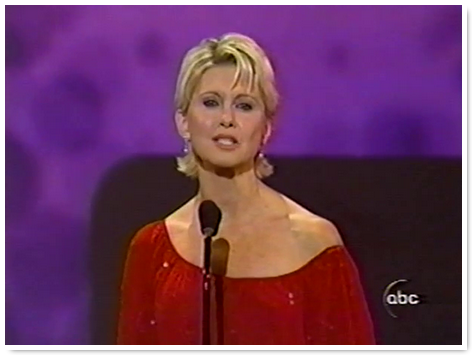 Olivia presented a Lifetime Achievement award to Mariah Carey at the 2000 American Music Awards.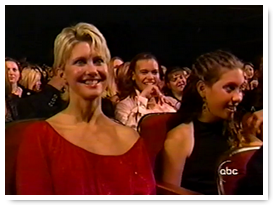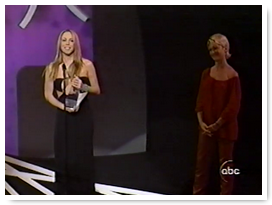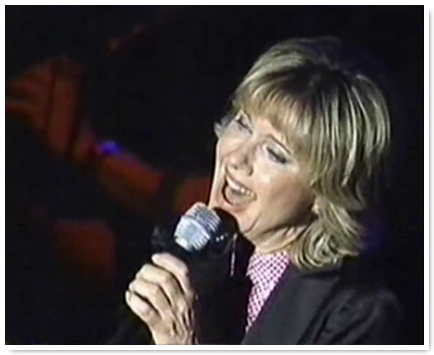 This is a selection of songs Olivia performed during her 2000 concert in Seoul.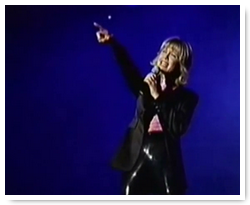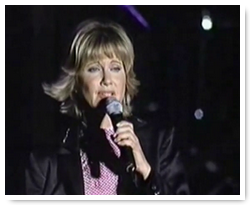 The songs are Xanadu, Please Mr. Please, Have You Never Been Mellow, Hopelessly Devoted To You, Summer Nights and Physical.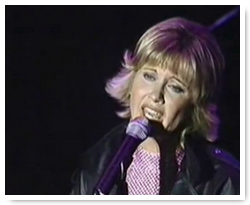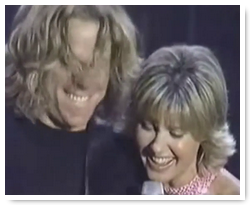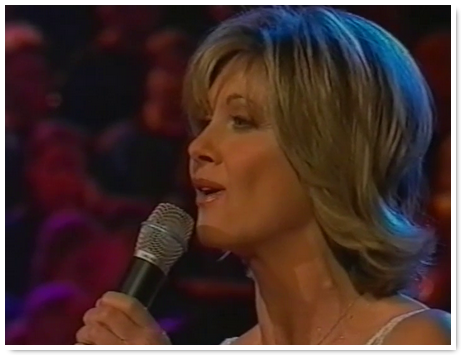 For the first time Olivia headlined Australian's Carols By Candlelight, an outdoor concert at Melbourne's Sidney Myer Music Bowl, held every Christmas Eve. It's also broadcast live on Australian TV and radio and watching it has become a Christmas Eve tradition for most Australians. Organized by the Royal Victorian Institute for the Blind (RVIB) it brings together a wealth of Australian talent to perform carols. The 2000 concert was considered one of the best with organizer Cos Cardone commenting: "Securing Olivia has been a long journey....but worth every minute. Her coming home to sing Carols for the first time is a great highlight" The concert also featured co-Olympic performers Tina Arena, Vanessa Amorosi and Julie Anthony.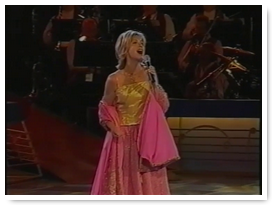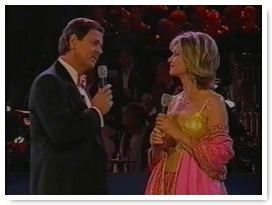 Olivia opened the concert with Hark The Herald Angels Sing dressed in a lovely gold gown accompanied by a full orchestra. Thanking the audience she said how great it was to be back in her home town of Melbourne. She said hi to her mom watching at home and waved to other members of her family who were actually in the audience. Olivia then introduced the host and personal friend Ray Martin. Ray, commenting on how great Olivia looked, wanted to know what pills she was on. Olivia giggled "I don't think you need them." Olivia returned later to sing Have Yourself A Merry Little Christmas and then accompanied by Stuart Fraser on guitar, sang the favourite Silent Night. The choir joined in with her for the end chorus - lovely. The outdoor venue meant the sound wasn't perfect but the atmosphere more than made for that. The concert ended with Olivia leading all the performers singing So This Is Christmas, followed by a medley of Christmas carols.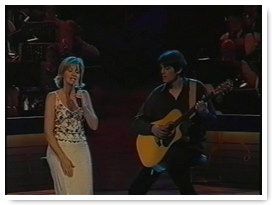 17-02-2016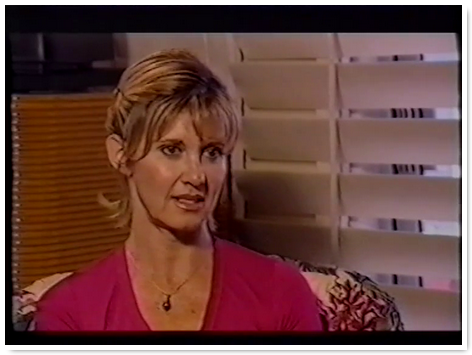 Olivia was interviewed for this ITV documentary about Cliff Richard on the eve of his 60th birthday. She was on screen for around 4 minutes and they showed footage of Getaway With Cliff, the first TV special Olivia and Cliff appeared in together.
Interviewed in a hotel room for the special Olivia denied that they had ever dated and complimented Cliff on his very genuine nature - "he is who he is. There's no other side to Cliff."
Olivia even hinted that they may have even got a bit tipsy together - having enjoyed a glass of wine together and had fun! One of her birthday gifts to Cliff will be a framed photo of them together from the early days - in an amusing pose.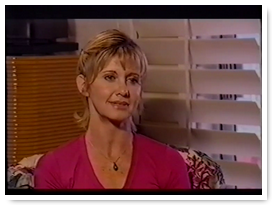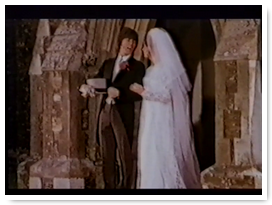 Olivia revealed, along with most of Cliff's other female friends, that her favorite Cliff song is Miss You Nights.
The special ended with Cliff receiving a huge birthday card signed by all his friends. On seeing Olivia's message he said "my lovely Olivia is here".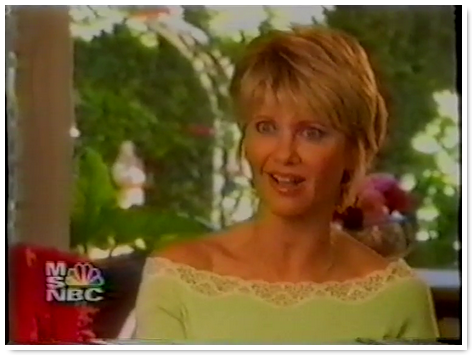 Matt Lauer of "Headliners & Legends" brings fans a unique and in-depth coverage of Olivia's career and life to date. With contributions from Olivia herself plus Chloe, Nancy Chuda, Pat and John Farrar, Olivia's mom, sister Rona and two members of Olivia's first group The Sol Four.
The program has excellent coverage of her early years in Australia and England. Many black and white clips are dug out of Network Seven's archives. Olivia treats us to a verse of the very first song she wrote "Why oh why did you go away?" about the pain of her parent's divorce.
Pat Farrar reveals that it was she in the early years who had all the ambition and Olivia came along just for the fun. Pat admits to pangs when it was Olivia's career that took off whilst she had to return Australia. John Farrar expresses his surprise at their success in America, he'd only ever expected to have hits in England.
For the first time Olivia publicly discusses (briefly) ex-boyfriend Lee Kramer who was also Olivia's manager in the 70s. This caused their relationship to be "too close, too intense". But meeting Matt was a chance to experience the childhood she'd never had due to her career - going fishing, hiking and camping together. Delightful home camcorder footage of Matt and young Chloe is shown.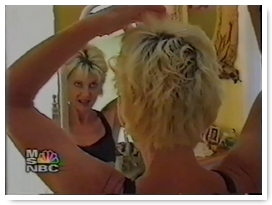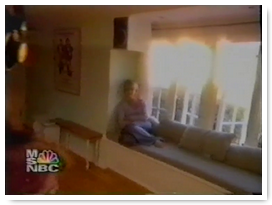 The program highlights the tragic events of the early 90s which Olivia encountered. The death of Colette Chuda was like loosing Olivia's own child and of fears during the first chemotherapy treatment for breast cancer. These are events none of us would ever wish to experience and the program deals with them sensitively.
After the in-depth coverage of the early years, the 80s and 90s are a little patchy career-wise as Olivia's personal life comes to the forefront. However, we're treated to wonderful scenes from Sordid Lives and a quick peak at Olivia cutting her own hair for the role!
The program ends with Olivia wishing health and happiness for her daughter and for herself health and more of the peace she's finding.
Olivia is joined by John Farnham to perform Dare To Dream and welcome the athletes for the Sydney Summer Olympic Games.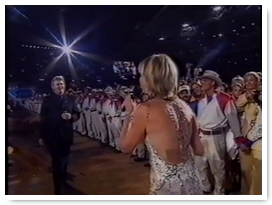 18-02-2016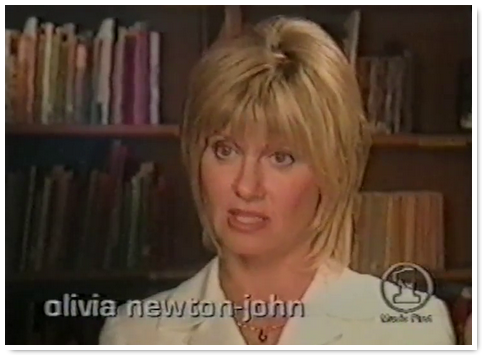 A look back at Olivia's early career.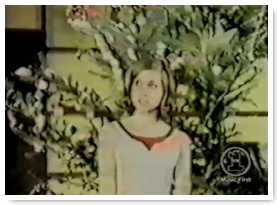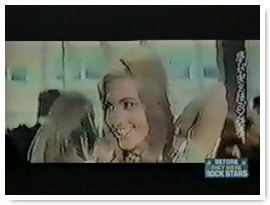 Interview about the Sydney 2000 Olympics. Olivia talks about performing at the opening ceremony and carrying the torch.