07-02-2016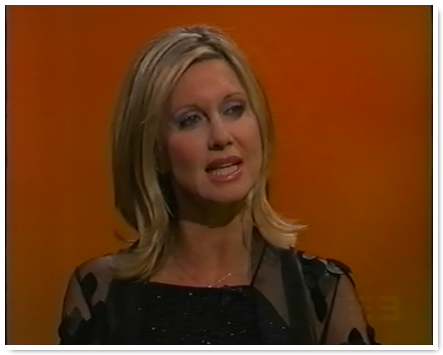 Olivia had her own TV special in Australia to promote her duet album (2).
The special featured live performances of her duets with Billy Thorpe, Tina Arena and via technical wizardry the late Peter Allen (using footage of Peter in concert from many years ago).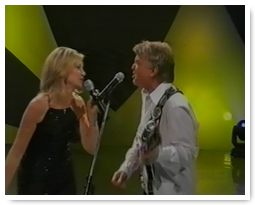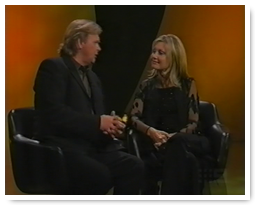 John Farnham also made an appearance bringing with him a Sandy 1 doll from Franklin Mint which Olivia swapped for a John Farnham doll.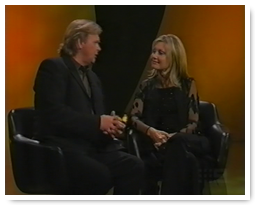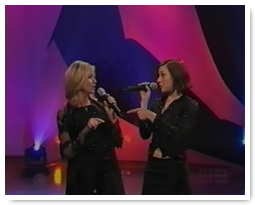 12-02-2016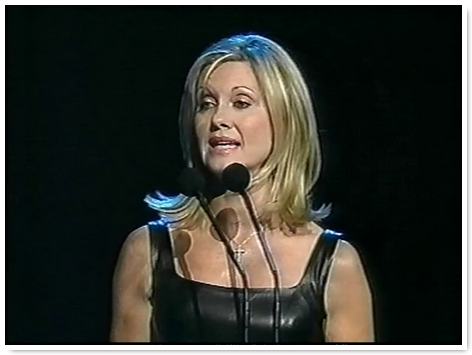 Olivia was inducted into the Australian Hall of Fame at the ARIA Awards in October 2002. Her friend musician Billy Thorpe inducted her and also had honour of holding the award whilst Olivia read her speech. Of course she was over the moon to be recognized for her musical talent in her home country.
She gave a very moving speech thanking all the Australians who'd helped her through her career and life. She began with thanking her Teacher Mr Hogan "Thank you Sir" from University High who advised a 15 year old Olivia to follow her dream. She thanked the Sol 4 girls (her first group); Ian Turpie (for playing guitar and friendship); John and Pat Farrar; Steve Kipner (wrote Physical) and Roger Davis. She thanked the "Three Peters in my life": Peter Allen; Peter Gormley (her first manager); Peter Heabes (?- travelled with her in the early days).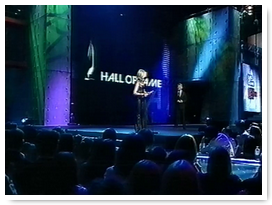 She thanked sister Rona who had chaperoned her "which is kind of funny really," and her dad. Her mother Irene, who was there in the audience, received a round of applause. The camera focused on daughter Chloe and Olivia's boyfriend Patrick clapping and looking very proud (in her speech she referred to Patrick as "my special man").
Ending with "I love you Australia" her speech went down a treat. The ceremony also had a nice 5 minute introduction showing Olivia clips throughout her career although it was written from a very American perspective.
Olivia guests on Rove's show for the second time in 2002. They talk about the ARIA Awards which Rove hosted. After Rove had congratulated Olivia on her ARIA Award Olivia, in her typical style, congratulated him back on his fantastic job as the host. Rove was curious about her chat with Kylie Minogue at the Awards, they chatted about their schedules and Australia in general but didn't mention the reports that Kylie was going to star in Grease 3.
The highlight is the presentation of Olivia's gold record for her new duet album "2."
Olivia spoke about her recent trip to the Melbourne Cup where she took the advice of journalist and placed a $12 bet on the number 2 horse (after the name of her album). The horse won!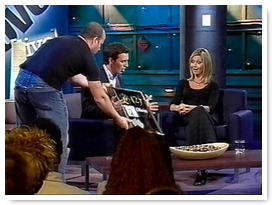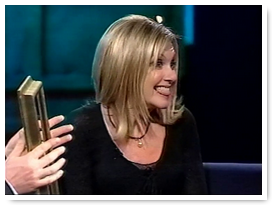 24-02-2016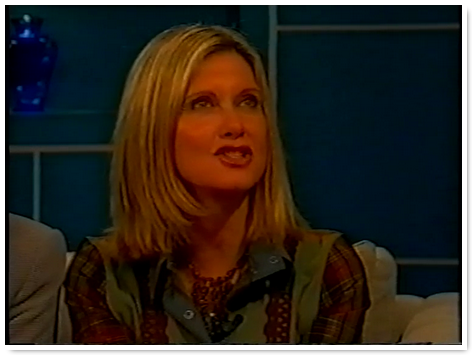 Olivia and Pat Farrar appeared on Bert Newton's Australian breakfast show to promote their Koala Blue wine.
Bert showed a couple of black and white clips of Olivia and Pat back in the 60s including rare footage of them arriving home by airplane from England. Olivia's old boyfriend, Ian Turpie was mentioned Bert always seems to mention him when he interviews Olivia and she's learnt to expect it! Bert had one message for Ian Turpie about his ex-boyfriend status - "bad luck oh chum." It's all very jokingly done as everyone in Australia knows that Ian has been happily married for well over 20 years and Olivia is good friends with Ian and his wife Jan.
It's revealed that Pat's old boyfriend was Fred Welland who was in the band The Strangers with her now husband John Farrar. Olivia and Pat both agree that he was very cute. At that time he had a better car than John which mattered to Pat in those days! Pat and John didn't start dating until the late 60s by which time either Pat had grown wiser or John had bought himself a faster motor.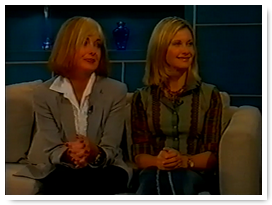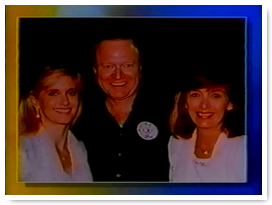 Olivia and Pat present Bert with a couple of bottles of their Koala blue wine. The brand name of Koala Blue now belongs to someone else. However, the owner is happy for Olivia and Pat to use it again as he found it wasn't worth much without Olivia's endorsement.
The interview inevitably talks about Olivia's career and the role John Farrar has played in it. Olivia and Pat are thrown off guard when asked by Bert what their biggest hit as a duo was: "we didn't really have a hit" replies Pat. They manage to remember the TV special they did for Australian TV back in 1968 with fake rain and Bert says "all the old camp stuff, we're still doing it on this show."
A fun interview live from Melbourne, Australia to promote Koala Blue wine. Olivia was on fine form and very relaxed, whether this had anything to do with her just arriving from partying at the Virgin Megastore opening with Richard Branson and Elton John we do not know!
Olivia came onto wolf-whistles, not surprising as she was looking very beautiful in a black trouser suit. The host, Rove (John) McManus, was very sweet and funny. Did we see signs of a little flirting between himself and Olivia?
Olivia talked about her wine admitting that she was not a big drinker "a few sips and I'm gone". But as the wine was so lovely, fruity and light Olivia joked "If I can drink it anyone can."
Rove mentioned all the emails they'd received from around the world about Olivia's appearance. He was surprised because many of us hadn't even seen the show but were emailing. On fans' behalf he asked about Olivia's dance CD and she said she'd done one track that would be on her nephew's, Brett Goldsmith, upcoming dance CD. She mentioned the possibility of this track being released as a single and then recording more dance songs "down the track."
The 1974 Eurovision Song contest was mentioned and Olivia joked at how she'd lost to Abba and that the song chosen for her she didn't like. They showed a clip of John Travolta from Rove Live in 2001, John said there was only one person who could play Sandy in Grease and that was Olivia. Olivia, ever modest, said I paid him a lot to say that!
They talked about Olivia and Pat Farrar's early duo in England citing the story of performing (clothed) in a London strip joint by mistake. Rove had fun with Olivia's chosen career if the singing didn't take off - a mounted policewoman. He conjured up the Charlie's Angel-esque image of "A woman on a horse with a gun... and with wine!"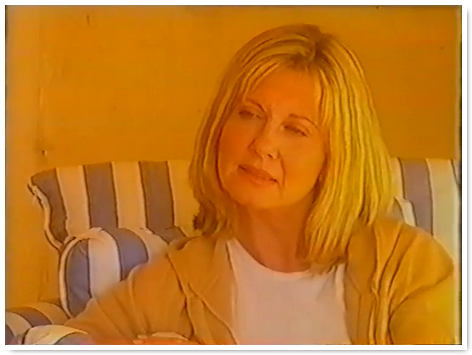 Olivia was featured in celebrity gardener on the Australian series Burke's Backyard. Don Burke, the host, introduced Olivia as "one of the nicest people I've ever met." Don spent the day with Olivia on her Australian ranch: visiting her forest, her orchard, interviewing her and playing tennis.
Don was impressed that Olivia lives what she preached having planted 10,000 native tress in the 8 years she's been there. Olivia has even set up a conservation trust so that if the land were ever sold then the trees would be protected.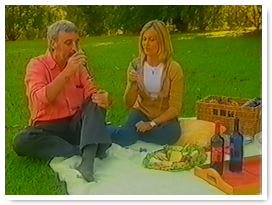 Olivia's orchard is also organic and a parrot is sighted eating the fruit. It isn't surprising that Olivia's yield from her orchard isn't very large as she encourages the birds to feast on the fruit.
Don also interviews Olivia; they talk about her career and in particular her academic family. Olivia does the usual self-depreciating joke about her having no brains but does wonder about the affinity between math and music. Don and Olivia then take a picnic which is a good chance for Olivia to promote her Koala Blue wine, and if Don is to be believed she's drunk three bottles of it already.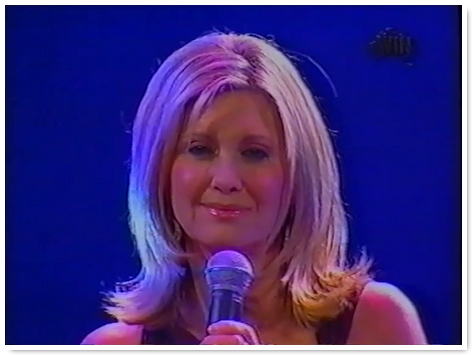 Olivia performed "I Honestly Love You" live for the Farmhand Foundation appeal concert in Sydney. Afterwards she gave a short interview and announced that she'd also be donating proceeds from her Koala Blue wine.
The Farmhand Foundation was set up to raise money for drought-affected farmers in Australia. The concert raised in total $3 million for the farmers.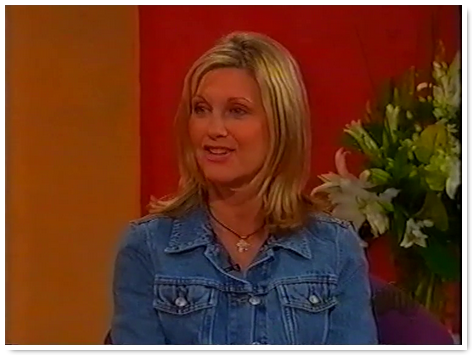 Olivia was guest on Kerri-Anne's morning show to promote her TV special that night and Koala Blue wines. A caller into the show asked if Olivia was going to tour Australia and she said it was a possibility for 2003.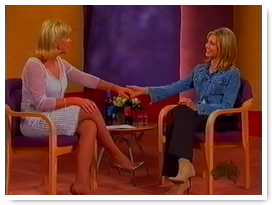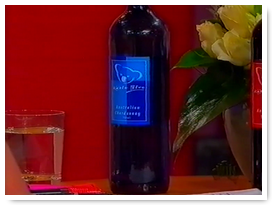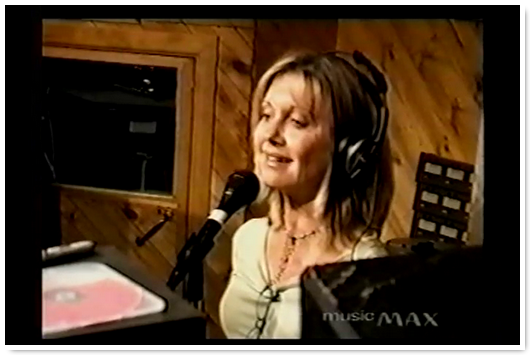 A great documentary about the making of Olivia's duet album "2". Behind the scenes footage from the recording studios with interviews with her duet singers - Tina Arena, Human Nature, David Campbell, Keith Urban, Jimmy Little and Billy Thorpe plus lots of contributions from Olivia and her album's producer Charles Fisher.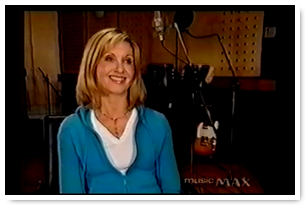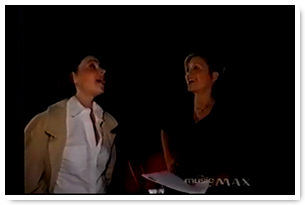 Olivia performs with her duet performers in the studio which is great. Actually they have overlaid the track from the album so it's not live performing. And if you have any thought that Olivia is a diva then think again as she's shown making the tea for everyone! Although some of it is obviously for the cameras most of it looks to be pretty natural revealing the true down to earth, fun but hard working Olivia in the studio.