06-02-2016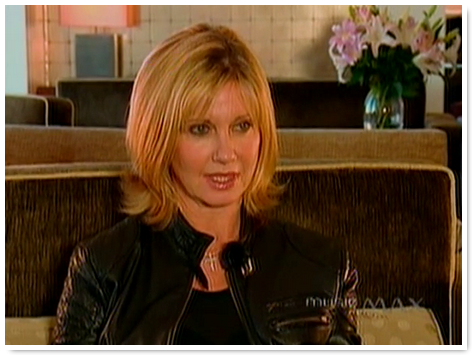 This interview was conducted just after Olivia's concert date at the Sydney Entertainment Centre. The interview is interspersed with clips from Olivia's career and it's nice that it also focuses on Olivia's rarer albums including Soul Kiss and The Rumour.
Olivia wore a black leather jacket & a black top! The interview started with Olivia saying she had just done the Brisbane, Newcastle & Sydney shows. Last night [Sydney] was unbelievable...the audience was so warm & generous, it was lovely, very special! Olivia mentioned she read the review in the Australian [newspaper] it wasn't good for me, she said laughing...he tore me apart! Olivia said it didn't bother her, because she goes by the audience reaction & the audience reaction has been AMAZING! They flashed 3 of Chris's Sydney Concert photos from the website up on the screen.
They talked briefly about, Grease, Totally Hot, Xanadu, Physical, Two Of a Kind, Twist of Fate, Soul Kiss, they played parts of all the clips they talked about... Olivia had the cover of the Soul Kiss album, the one where she is bare backed, she said she was uncomfortable posing for that back then, but looking at it now, it's a really nice picture & she appreciates it now!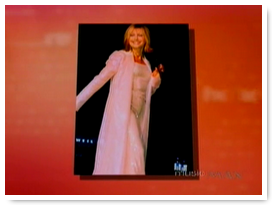 They mentioned The Rumour (recording the title tack with Elton John), Warm & Tender and Gaia, They played some of the clip of No Matter What You Do. They spoke about Sordid Lives. Olivia said she had so much fun bleaching & cutting off her hair, wearing the fake Tattoo's & earrings etc... She said in-between filming, walking around the neighbourhood, she learnt an interesting lesson in life! People judge you by how you look...the looks she got, people pulled their children away, it was very funny, she said!
They then talked about "2" Olivia said she was delighted with the response of the album, it had gone platinum before the interview & was on it's way to going second Platinum, it went in at #5 on the Australian charts Olivia said she was very happy with that! Lastly they talked about the Grease 3 & whether or not it was just a rumour. Olivia said they are seriously pursuing the idea, but that whether it happens or not she doesn't know! She said it has a good shot at happening. They finished with the film clip of You're The One That I Want!
Summary by Robyn Waugh taken from Only Olivia.
12-02-2016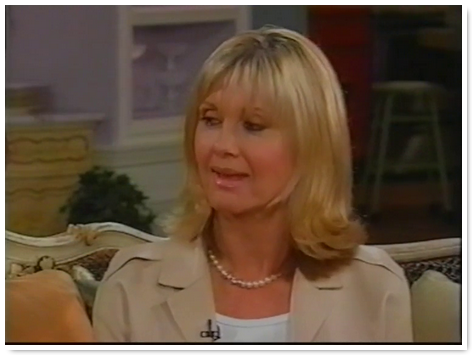 Sharon Osbourne introduces Olivia as "a fellow cancer survivor", Sharon having had bowel cancer a year or so ago. Olivia is there to promote a new breast cancer examination kit called "the Liv Kit". It magnifies any changes in the breast 10 times and consists of a bag filled with a gel-like substance which is placed over the breast.
Olivia brings her cute dog "Rouge" dressed in a pink ribbon in honor of breast cancer awareness month. Olivia's daughter Chloe is mentioned briefly having secured a recording contract and there's a very brief mention of Olivia's tour.