04-02-2016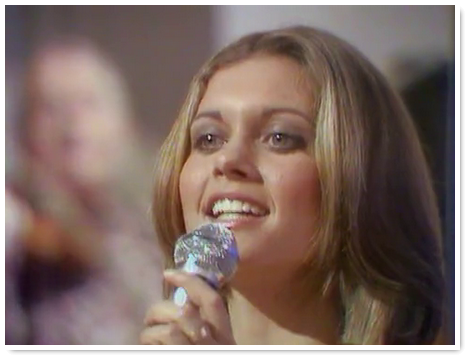 Here's an oddity : for her fourth appearance on French television (that I know of), Olivia Newton-John chose to cover a 1968 Beatles song : Honey Pie (available on the Beatles' "White album") on jazz violonist Stéphane Grappelli's TV special.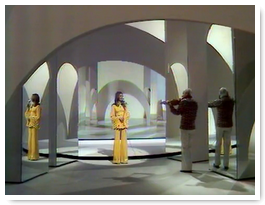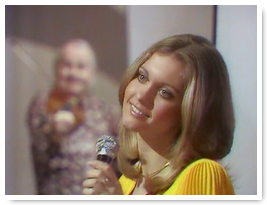 At this point, Olivia's career hasn't yet really started in the US - Let me be there was not yet out - and there's really not much information about this performance. French singer - and Olivia's friend - Sacha Distel was also a guest on this show, so we can guess she appeared on it as a favor to him.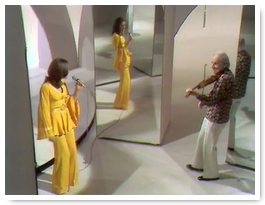 Honey Pie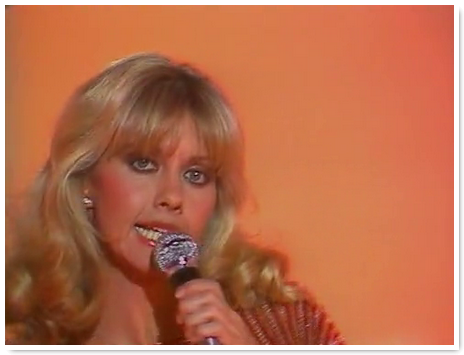 Shortly after Grease and Totally Hot were released, Olivia embarked on a concert and promotional tour in Australia, Japan and Europe. During her French stop, she taped several performances that ended up being aired on various shows in late 1978.
Les Rendez-Vous du Dimanche was aired very sunday afternoon and hosted by Michel Drucker. It was mainly an entertainment show, dealing with music, movies and television.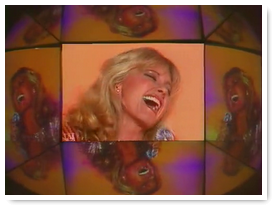 Three songs were taped for this program and the first two (Totally hot and A little more Love) were aired on December 10th. Olivia seems to struggle vocally - this was at the time when she came down with the flu and ended up being in hopsital after a hectic schedule, promoting her music around the world.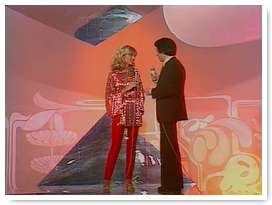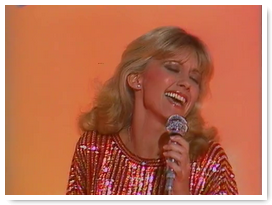 On this first Les Rendez-Vous du Dimanche appearance, Olivia gives a short interview between her two performances, talking about her family, the beginning of her career in Australia and her interest in French cinema, mentioning Claude Lelouch and François Truffaut.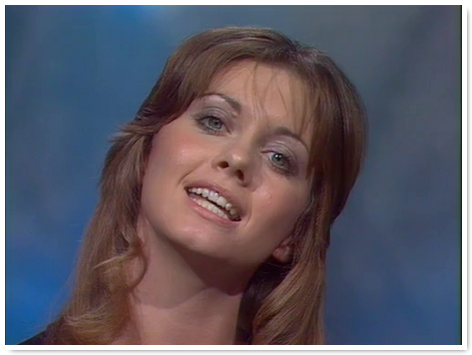 Olivia's third appearance on French television was in a show called Chœur en Fête (loosely translated : Partying Choir) where the main guests were Les Compagnons de la Chanson, a vocal group founded during World War II.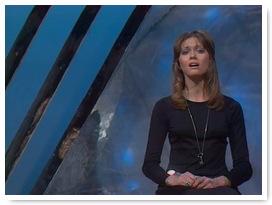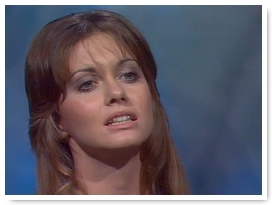 She performed two songs : Love Song, which was the French B-side to Banks of the Ohio, her second single from her first solo album released in 1971.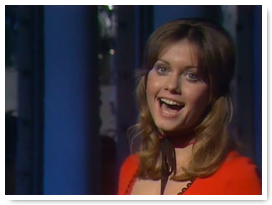 Although this is the only performance of Love Song that I know of (except of the 1976 ABC TV special opening number), Banks of the Ohio basically the same treatment it got in German television show Disco which was most likely filmed around that time as well : Olivia walking around the set in a red dress. It's all about the nice close-ups in both videos.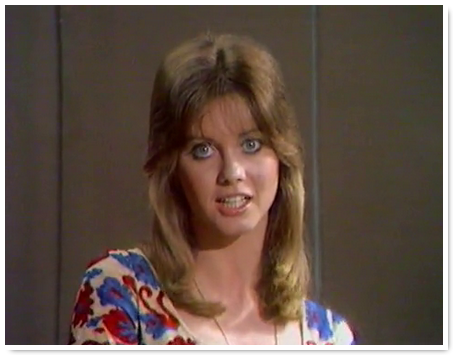 Olivia's first appearance on French television happened in May 1971 when she was promoting her first proper single, If not for you. This song is a George Harrison cover, which itself is a Bob Dylan cover ( in other words : she covered Harrison's version of Dylan's song. No, that's not confusing :D )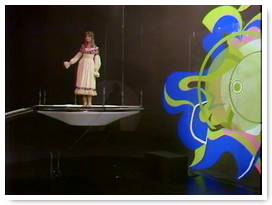 Le Grand Amphi was a monthly variety show hosted by Jacques Chancel on what was then the second color tv station in France. Notice how he refers to her as "Olivia Newton" once she's done with her performance.
She seems to be pretty at ease doing her routine, standing on a suspended platform that doesn't look the safest to me.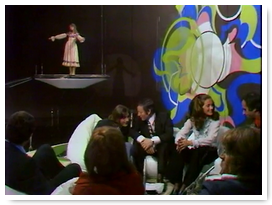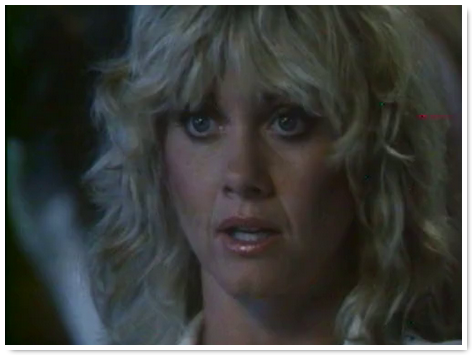 Now this is a real gem : a 23 minutes intimate interview with a very relaxed Olivia, filmed at her Malibu ranch to promote Xanadu. This program, produced in June of 1980 and aired in France in November, was shown internationally under the title "A Superstar Profile".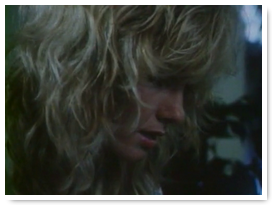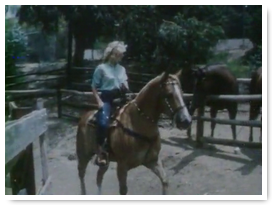 You'll see Olivia riding her horses, playing with her dogs, driving her car, playing an unidentified song on the piano with her Irish setter Jackson sitting around...
She mentions fame, Toomorrow, her parents speaking in German so she wouldn't understand when they'd have an argument...
I've seen A LOT of Olivia Newton-John interview, yet very few come close to this one when it comes to intimacy and Olivia being that much open.
Various songs are played throughout the program : Magic, Suddenly, I honestly love you, Loving you ain't easy, as well as video clips from Grease and Xanadu.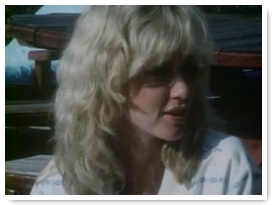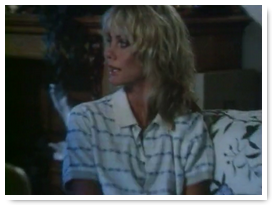 05-02-2016
Souvenirs Souvenirs was the French version of US TV series Portrait of a Legend which was produced and aired in the US in the early 80s, the interview bits used in this version are basically the same as on the original one.
There are some differences though : the French host was singer Johnny Hallyday, while the original program was hosted by James Darin. But most interestingly, some of the music clips are somewhat different : the French version includes an almost full version of Maybe then I'll think of you performed at the 1973 Tokyo Music Festival (only the intro is missing), they used the Australian Royal Variety Concert for Hopelessly devoted to you instead of the one from Hollywood Nights, and the Have you never been mellow clip is a bit of a mystery to me, as I've never seen it anywhere else.
Otherwise, it's basically the same program : a look back at Olivia's career up to that point (this was aired in the US in August of 1981, so Physical was not yet out even though she already wears the then new hairstyle) where she reflects on her winning a talent contest at the age of 14, creating the Sol Four group, John Farrar's songwriting and her expectations for the future.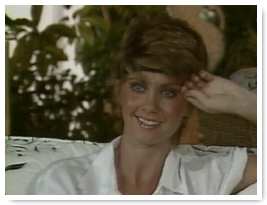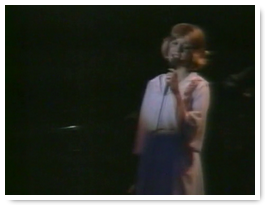 This version is subtitled in French, I'll upload the original US version eventually.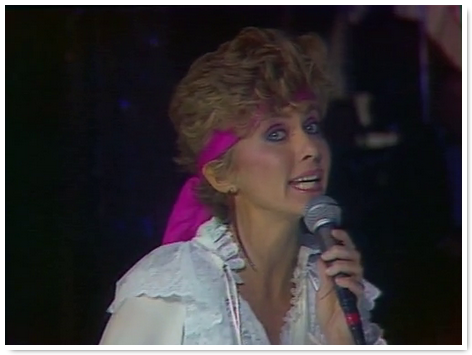 Olivia was in France for her birthday in 1981 as she was promoting Physical around Europe. The show was simply called Stars and was hosted by Michel Drucker, who Olivia already met three years earlier in Les Rendez-Vous du Dimanche.
Olivia was the penultimate performer on the show, followed by french singer Johnny Hallyday who performed three songs.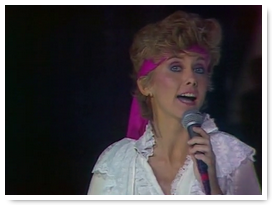 Olivia sings Physical live with the typical aerobics choreography (losing an earring in the process) and gives a short interview, in which Michel Drucker basically asks the same questions he did in 1978. At the end of the show, Olivia, Johnny Hallyday and Michel Drucker are joined by all the other guests (including Sheena Easton) to present Olivia with a birthday cake before she gives Johnny Hallyday a gold record for the album he just released.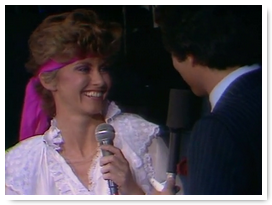 Although it was released in Australia in 1994, Olivia's Gaia album came out in France in late 1995. She appeared on several television shows to promote it, including this one where she starts by performing the Smash Radio Edit of No Matter What You Do.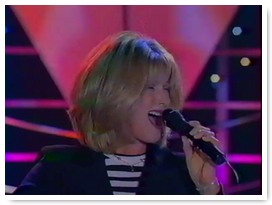 She also sat down with host Julien Courbet for a short interview, talking about her ordeal with breast cancer and her music being a big part of the healing process. Courbet then took the conversation to Grease, showing some clips from the movie and mentioning the video was commercially available. He also put a leather jacket and sang the first bars of Summer Nights with Olivia joining in. Next came french singer Francis Lalanne who duetted with Olivia on You're the One that I want amongst a group of dancers. This version was released on a dance music compilation.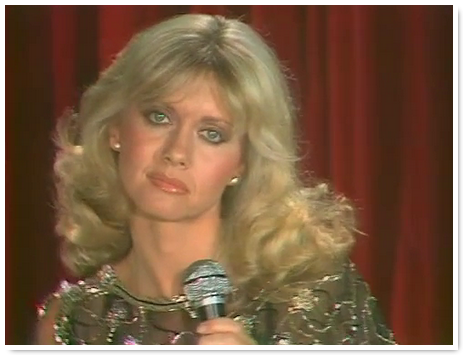 As I mentioned on another 1978 article, Olivia taped several performances in France that year, and this is one of them : A little more love.
We're led to believe that singer Michel Sardou proposes to her, as Jean-Claude Brialy asks her if she does indeed plan to marry Sardou and she simply answers "Michel Sardou ? Pas question !" (which could be translated as "no way"), but obviously Olivia's bit was taped separately.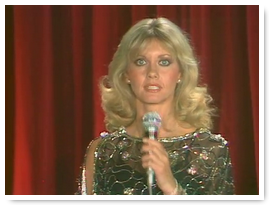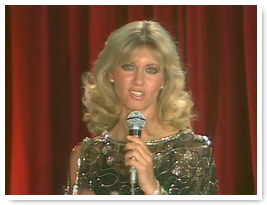 06-02-2016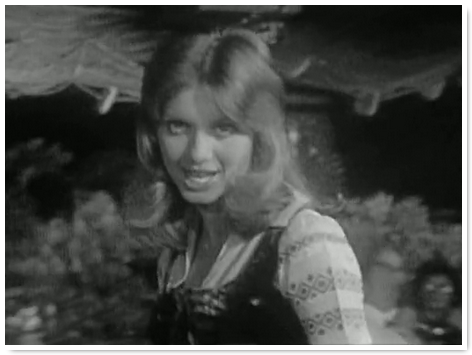 This is an outdoors performance of If not for you filmed at the Festival de la Rose d'Or in Antibes (FR) in 1971. This is where the Don't move away performance with Cliff Richard was filmed as well. There's a 6 seconds default at the beginning of the song, but this comes straight from the tv station's master, there's no repair I can do about it :(